Counselling
Counselling access during school closure
During school closure, face-to-face counselling in school may be unavailable. However, telephone counselling with Debra MDonald-Webb can be offered to those students who are already existing clients.
Alternative support can also be accessed via www.kooth.org or check out the information below for other organisations offering support.
If you wish to book an appointment or you are a student wanting advice on where to get support elsewhere. Please message Debra on the 'E help line' during office hours only and I will respond to your message as soon as possible.
For existing clients wanting telephone counselling, once the time of the session has been agreed, I will contact you on the number you give me.
Please read the instructions below
*As an existing client you will already have completed a counselling contract and signed and agreed to the terms and conditions.
*Safe guarding will continue in the same way as in the signed school counselling contract. If I am concerned for your safety, a safe-guarding form will be sent to the Safe-Guarding Officer and the usual procedures will be followed.
*Please find a safe and confidential place to telephone, where you are comfortable to talk. Ensure you will not be disturbed or overheard during the session. Try to avoid unexpected interruptions.
*If there is a break in phone connection during the session, which cannot be re-connected. Contact me on the E-help line to re-schedule.
*Notes from the session will be added to your client counselling file and stored in a lockable cabinet, as per the school counselling contract.
Additional help during school closure: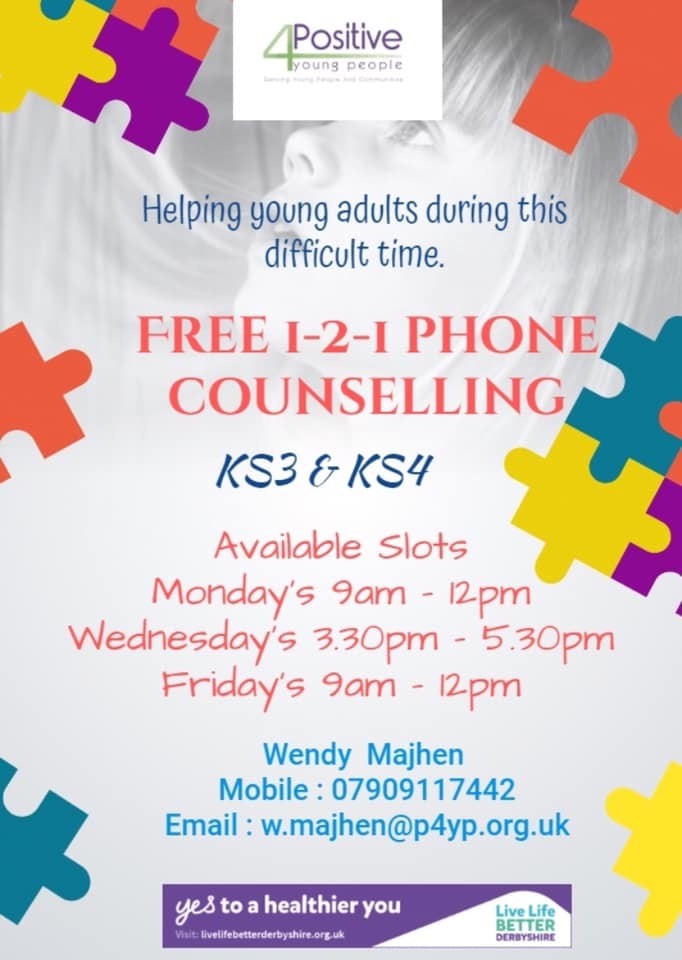 Full Time Counselling Service
Counselling gives you a chance to talk/open up about what is bothering you with someone who is not connected with your family, friends or school. A counsellor won't tell you what to do, but will help you to make your own decisions. It can really help to talk sometimes; you may feel anxious and down but not know why. If you're not sure whether counselling can help, come along anyway! If I can't help, I'll do my best to work with you to find someone who can. Whatever we discuss is confidential within the service, unless I believe that you, or someone else is being harmed or at risk of being harmed.
To book an appointment, change an appointment or make a referral, e-mail Debra during term time only at ehelp@buxton.derbyshire.sch.uk
Certificate in Counselling/ Diploma in Counselling
MBACP (Senior Accred) UKRCP registered independent Counsellor

If your concern is urgent and you need to speak to somebody straight away, please contact your DOCTOR or other AGENCIES on the list below
you can contact
Where else to Find Help: Services in North Derbyshire
CAMHS Specialist Community Advisers
Mental health consultation for professionals only. Please contact your local Adviser.
NHS Talking Therapies: Improving Access to Psychological Therapies (IAPT) Age 16-18
Talking Mental Health Derbyshire http://derbyshirementalhealthservices.nhs.uk/services/talking-mental-health-derbyshire/
Relate Chesterfield and North Derbyshire https://chesterfieldrelate.org.uk/young-people/
Derwent Rural Counselling Services https://drcs.org.uk/therapies/
School and Community Based Counselling
Positive 4 Young People http://www.p4yp.org.uk/
Relate Derby & Southern Derbyshire : Safe Speak http://www.safespeak.org.uk/index.html _ secondary school age
Action for Children: Talk Time https://services.actionforchildren.org.uk/derbyshire/talk-time/ primary school age
Specialist Support for Children and Young People
Autism : Derbyshire Autism Services http://www.derbyshireautismservices.org/
Bereavement
Ashgate Hospicecare https://www.ashgatehospicecare.org.uk/help-and-support/support-for-families-and-carers/
Blythe House Hospice http://www.blythehousehospice.org.uk/services/bereavement-service/children-young-people-support.php
CRUSE Bereavement Care - Chesterfield Branch http://www.cruse.org.uk/children
Child Sexual Exploitation : Safe and Sound http://safeandsoundgroup.org.uk/
Domestic Abuse : Derbyshire Domestic Violence and Sexual Abuse Service http://www.ddvsas.org.uk/children-and-young-peoples-services/
Domestic Abuse : Crossroads Derbyshire http://www.crossroadsderbyshire.org/
Eating Disorders : First Steps Derbyshire http://firststepsderbyshire.co.uk/
Sexuality : Derbyshire LGBT+ http://www.derbyshirelgbt.org.uk/
Sexual Violence : SV2 http://sv2.org.uk/
Substance Misuse : Derbyshire CGL https://www.changegrowlive.org/content/derbyshire-cgl-young-peoples-service
Support for Victims of Crime : Got Your Back http://gotyourback.tv/
Young Carers : Action for Children https://www.actionforchildren.org.uk/in-your-area/services/young-carers/derbyshire-young-carers/
this service has been taken over by Derbyshire Carers on 01773 833833
Online Resources
MindEd : www.minded.org.uk
Free educational resource on children and young people's mental health for all adults. Parents and professionals
NHS Choices : www.nhs.uk/livewell/youth-mental-health/pages/Youth-mental-health-help.aspx
An information hub offering young people advice and help on mental health problems including depression, anxiety and stress.
Big White Wall : www.bigwhitewall.com/
A safe online community of people who are anxious, down or not coping who support and help each other by sharing what's troubling them, guided by trained professionals.
Campaign Against Living Miserably (CALM) : 0800 58 58 58 www.thecalmzone.net/
Charity dedicated to preventing male suicide. Webchat available.
ChildLine : 0800 1111 www.childine.org.uk Confidential support for children

Heads Together : www.headstogether.org.uk/
A partnership of charities spearheaded by The Duke and Duchess of Cambridge and Prince Harry, campaigning to end stigma around mental health.
Kidscape : Parents' Advice Line 020 7823 5430 www.kidscape.org.uk
Preventing bullying
Mental Health Foundation www.mentalhealth.org.uk
Mental health information charity.
Mind : 0300 123 3393 www.mind.org.uk/
A wealth of information, advice and support for people of all ages experiencing mental ill-health.
PAPYRUS : 0800 068 4141 www.papyrus-uk.org/
Papyrus exists to reduce the number of young people who take their own lives by shattering the stigma around suicide and equipping young people and their communities with the skills to recognise and respond to suicidal behaviour.
Talk To Frank : 0300 123 6600 www.talktofrank.com
Confidential drugs advice. Live chat available.
The Mix : 0808 808 4994 www.themix.org.uk/
24/7 support service for under 25s – confidential helpline, forums & webchat available
Young Minds : parents' helpline: 0808 802 5544 www.youngminds.org.uk/
YoungMinds champions wellbeing and mental health of young people. Website contains a wealth of resources and support for young people and for parents.
And for parents – Contact WWW.relateforparents/prg.ukAail
Call
0800 093 5264 or 01332 349301