We will miss you!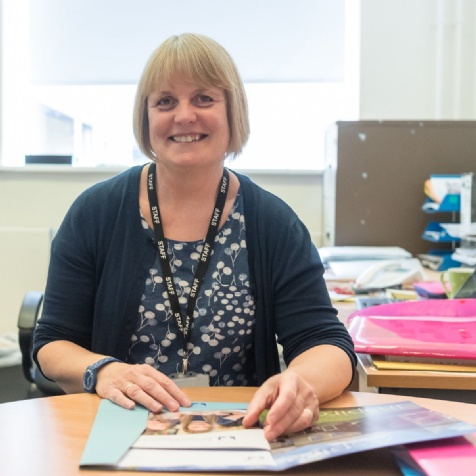 We wish you goodbye with all our good wishes
The summer term saw us saying goodbye to our Y13 students and au revoir to our Y11s (as a large majority of them will rejoin us in our sixth form) but it also meant that we said farewell to several staff members including Assistant Headteacher, Mrs Lynne Pope.
Mrs Pope joined BCS in January 2006 from Noel Baker School in Derby as our Director of Sport (back in the days of specialist status) and helped our then Headteacher, Mr Alan Kelly, put together our bid for specialist school status which we gained as a specialist sports college. She then set about transforming the sports facilities and enabling our students to engage in a wealth of sports-related educational opportunities. Her achievements have been overwhelming (far too many to mention all of them here) but some of the highlights were:
Bidding successfully for huge pots of money to fund for the Astro and 3G.
Launching the Young Apprenticeship in Sport for Peak 11 schools and gaining national recognition.
Taking our YA students and staff to the practice opening ceremony of the 2012 Olympic Games.
Introducing the BTEC dance specialism and other sports-related vocational courses.
Even when the government abolished specialist status from schools and Lynne's role at BCS changed, her commitment to education in its broadest sense - educating the whole-child through PE and enrichment opportunities through sport - remained undiminished and she went on to:
Take YA students to help the athletes at the World Para Athletics Championships.
Organise our involvement in the English Schools Cross Country Championships, through her work with the English Schools Athletics Association - of which she is now Chairman.
Work extensively with the PE department to secure opportunities for our students to participate in Sport, something she has continued to do to this day.
Following her role as Director of Sport, Mrs Pope remained on the senior team as AHT in charge of KS4, curriculum leader for the BTEC qualifications and also had oversight of staff development/CPD. And, of course, her last legacy to BCS has been the setting up our Alternative Provision.
We will certainly miss Mrs Pope and her lovely smile and would like to thank her for everything she has done at BCS, not least of all keeping us all safe during this horrid pandemic where she has put her superb organisational skills to tremendous use in setting up our testing centre and endless COVID procedures. Now is the time for her to relax and enjoy the many plans she has with her lovely husband in their camper van!
We were also sad to say goodbye the following staff and again, wish them all well in their next adventure:
Ms Shairon Rodgers is leaving her post of Head of Drama at BCS after 20 years. We are very grateful for the inspiration the drama team have provided to so many students during her time with us. There is a comprehensive list of alumni who have left our school to go on to careers in the world of Arts and Ms Rodgers has played such an important part in what they are doing now. Ms Rodgers also represented many of our teachers in her role as NASUWT representative. A role which she performed diligently taking the greatest of care of her members, not least through the recent pandemic when we have all been working so hard to keep everyone safe. She is now off to have new and exciting adventures and we hope she enjoys every minute.
Mrs Jacinta Howard (nee Miss Mills) leaves us today after 18 years. Mrs Howard made huge contributions to our English department, not least of all as Head of English for most of her time here. She has been a popular and inspirational teacher and has seen so many pass through her classroom on the way to higher education and careers associated with her subject. Our very best wishes as she moves on to new challenges.

Miss Annika Hall came to us as a trainee, went elsewhere for a year and then returned to join the science team full time. During her 6 years with us she has been an exceptionally positive light. Miss Hall has always been keen to take on new challenges and has been building a profile that has led her to become a Head of Chemistry in her new role - in which we are sure she will be an exceptional success. Her work on transition with Mr Wentworth and Mr Holman has been brilliant and we have more first choice Y7 applications than ever.

Mrs Andrea Bailey has been employed as a member of our Learning Support Team for 23 years but also spent a couple helping in school and on temporary contracts. So for a quarter of a century Mrs Bailey has been helping young people including some of the most exceptionally challenged students we have had. Each one gaining the support and attention that they deserve and more. Mrs Bailey has also spent many years quietly and efficiently looking after the staff forum. This is a thankless task but one that has made a huge difference over the years. We wish her all the very best in her well-earned retirement as she looks forward to spending more time with her growing family and going on holiday out of term time!

Mr Jason Warhurst has been a tremendous support to the subject of ICT and computing over his 5 years with us and we are thrilled for him on his well-deserved promotion to head of department at STM. We wish him the absolute best of luck for the future.

Mrs Louise Hallows worked in our personnel and finance departments for 11 years before leaving us earlier this year to seek more student-facing roles. She was not gone for long though before she returned in the totally new capacity of Cover Supervisor. She has done exceptional work with cover groups and remote learning. We wish her the very best of luck in new role with BJS where we know she will be great.

Mr Curtis Wall joined us in September as acting Head of Music to cover Mrs Reddy's maternity leave. As an acting head of department you always feel like a visitor in someone's house and have a careful line to tread. We were incredibly lucky with Mr Wall who looked after the department beautifully and passed it back to Mrs Reddy in really good shape. We wish him the very best of luck as a permanent head of music in his new school.

Mr Neil Jeram-Croft joined us a year ago and is now returning to first love with the Manchester Film festival. We thank him for his contributions to BCS and our science department during an incredibly challenging year to return to teaching and wish him well in his new venture.

Miss Jordana Cooper-Hughes and Mrs Liz Broadhurst have been with our Learning Support Department for a year and sixth months respectively. Both have built lovely relationships with some of our most vulnerable young people. We send them both on to their new challenges with our very best wishes.
We are also excited to welcome our new staff in September:
Ms Lorraine Cushnie - Head of Drama
Miss Sarah Davenport - Teacher of Science
Mr Luke Fowler - Teacher of Science
Mrs Anoma Howard - Teacher of English
Mr Ed Jones - Teacher of Geography
Mr Eden Hutchins - Teaching and Learning Assistant, Literacy and Numeracy
Miss Roxanne Bloor - Teaching and Learning Assistant
Mrs Jane Byatt - Teaching and Learning Assistant
Miss Rebecca Tomlinson - Teaching and Learning Assistant