Natasha's Law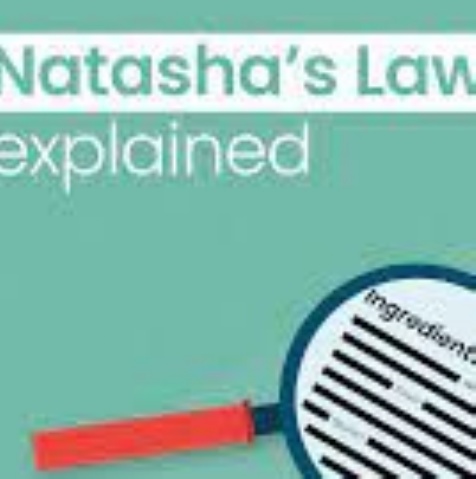 You may well have heard of 'Natasha's Law', and the changes to food labelling following the tragic death of teenager Natasha Ednan-Laperouse from an allergic reaction caused by a prepacked baguette purchased from Pret a Manger which, at the time, did not require allergen labelling.
On Friday 1st October 2021, the law on allergen labelling for pre-packed for direct sale (PPDS) foods will change. This means that any food business selling PPDS foods will have to include full ingredients on the product label with allergenic ingredients emphasised within that list.
The Food Standards Agency's (FSA) wants to help to improve the quality of life for people living with food hypersensitivity and support them to make safe, informed food choices to effectively manage risk. The upcoming changes to allergen labelling is a positive step for the two million people living with a diagnosed food allergy in the UK, as well as for those living with food intolerance and coeliac disease.
How does this affect us?
As a school will be required to list all ingredients and allergens on food labels.
These are the 14 allergens that need to be declared:
Cereals containing gluten and wheat, e.g. spelt, rye and barley
Crustaceans, e.g. crabs, prawns, lobsters
Nuts, including almonds, hazelnuts, walnuts, cashews, pecan nuts, brazil nuts and pistachio nuts.
Celery
Eggs
Fish
Peanuts
Soybeans
Milk
Mustard
Sesame Seeds
Sulphur Dioxide and sulphites at concentrations of more than 10mg/kg or 10mg/L in terms of total sulphur dioxide
Lupin
Molluscs e.g. mussels, oysters, squid, snails
Schools will be required to list all ingredients and allergens on the labels of any food made on site, e.g. snacks, sandwiches, salad pots or cakes, that are pre-packaged prior to them being offered for consumption. Our catering team have been working really hard to ensure all the labelling is ready for our food on Friday and training has been completed by key catering staff to understand the implications of the new law.
Schools, voluntary and charity organisations who undertake fundraising events such as bake sales have been told they will also need to consider how they package their goods and the impact of the new law on these events. For this reason we have taken the decision to stop all charity/ fund-raising cake sales with immediate effect. We will review the impact of Natasha's Law in the forthcoming months and update as we find out more.