BCS U15 footballers are champions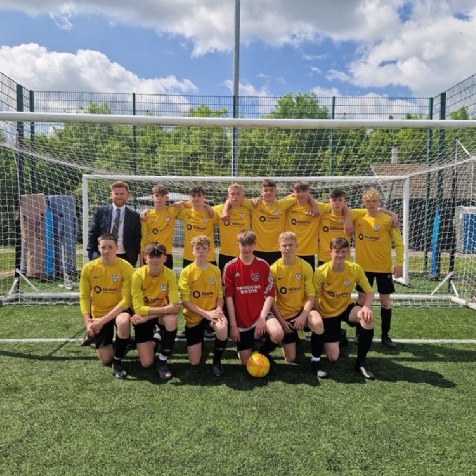 BCS students win the DSFA Cup Final!!
n Friday 26th May the under 15 boys travelled to Derby County's Moor Farm training ground to play West Park School in the DSFA cup final.
It was a first DSFA final for BCS and family and friends travelled to Derby in their numbers. The opposition had beaten previous opponents comfortably and would have felt like they were favourites going into the fixture. This was evident from minute one of the game as West Park started strongly and played some excellent football. However, it was BCS who would break the deadlock on the counterattack with a goal from G.Elliott. This didn't impact West Park's dominance, and they quickly managed to turn the game around in their favour - scoring two quick goals to make it 2-1.
The game looked to be going only one way until Mr Ward called a water break and he and his assistant Mr Holman gave an inspiring team talk. The impact of the talk was huge as G.Elliott ran through on goal and was brought down for a penalty - which he cooly dispatched into the bottom right-hand corner to make it 2-2. Things got even better as G.Elliott scored his hat trick just before half time to put BCS up 3-2.
The pendulum had swung and BCS were now the better team. They took advantage of their dominance by scoring two more goals after half time. B.Moss scoring the fourth with a superb run and finish, before G.Elliott scored his fourth of the game to wrap up a 5-2 win for the boys.
There were some ugly scenes at the end of the game from the opposition as two players were shown red cards but the BCS boys wouldn't let this impact on their behaviour and they carried on the trend of being excellent representations of the school, and Mr Ward.
Next stop - the national competition...the journey continues.
Mrs Jones would like to express her extreme pride at the way the boys conducted themselves throughout this competition but especially during the final when the other team were making it difficult. Also, huge thanks to Mr Ward for all his help and guidance with the boys.