Good luck in Bristol at the National First Lego League UK and Ireland Final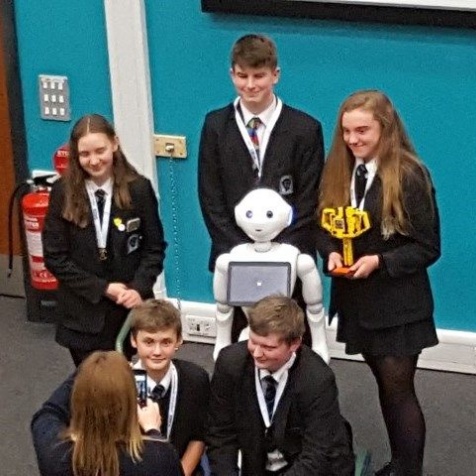 Buxton Community School are heading to Bristol for the national FIRST® LEGO® League UK and Ireland Final
Students from Buxton Community School will battle it out to be crowned champions of the Institution of Engineering and Technology's (IET) FIRST® LEGO® League UK and Ireland Final on Saturday 24 February at University of the West of England in Bristol.
The science and technology challenge, which is aimed at 9-16 year olds, tasks teams to build a robot to tackle a series of missions, and create an innovative solution to a real world problem. This year's HYDRO DYNAMICSSM challenge is all about water – how we find, transport, use, or dispose of it.
The event will be one of the largest ever FIRST® LEGO® League UK and Ireland Finals with over 500 young people attending who will all be keen to demonstrate their skills in robotics, computer programming, teamwork, research, problem solving and communication. The IET is also inspiring the very youngest of children with FIRST® LEGO® League Jr. teams (aged 6-9) attending the final for the first time.
Mandy Workman, FIRST® LEGO® League IET Education Manager, said: "FIRST® LEGO® League allows young people to experience engineering in action. As well as bringing excitement to STEM subjects, the students get hands-on experience with robotics, and designing innovative solutions to real world problems. Developing computer programming, teamwork, problem-solving and communications skills has never been so much fun and gives students an insight into the creative and innovative careers that engineering presents.
"There is a great need for young people with STEM skills to fill the next generation of engineering roles and we are excited to see such bright young engineering minds in FIRST® LEGO® League."
Stephen Metcalfe MP and IET Young Woman Engineer of the Year, Ozak Esu, are expected to attend the event.
The IET is proud to be the operational partner for FIRST® LEGO® League in the UK and Ireland. Supporting the competition is part of the IET's commitment to show young people the benefits of careers within Science, Technology, Engineering and Mathematics (STEM).
For more information about this year's FIRST® LEGO® League competition, please visit http://firstlegoleague.theiet.org/index.cfm.