BUDDING YOUNG ENGINEERS WIN FIRST LEGO LEAGUE ROBOT DESIGN AT UK CHAMPIONSHIPS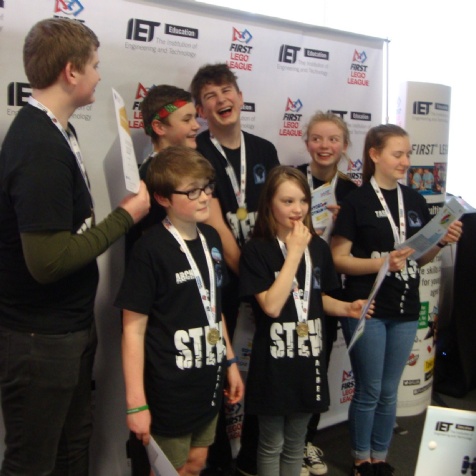 On Saturday the 24th February, a group of students from Buxton Community School competed in the UK Championships of the First Lego League at Bristol University.
Having previously won the regional finals in Sheffield; Ben Ashmore, Tom Etches, Jacob Lumbert, Natasha Birch and Ellie Bagshaw, all in year 10, Millie Rabbitts in year 7 and Archie Lydford spent the day competing against 53 other regional winning teams in a fun packed day.
After a tense wait at the award ceremony, the team were ecstatic to discover that they had won the award for Robot Design!
They will now represent the UK on the global stage when they attend the First Lego League World Festival later this year. Along with 11 other teams, BCS qualified for the international finals which will be held in the USA, Hungary and Estonia.
The trophy was awarded by the IET Young Woman Engineer of the Year, Ozak Esu.
The competition was filmed throughout the day and posted on to YouTube - which was great for families who had been unable to travel down with the team.
The team would like to say a big thank you to Tarmac for their sponsorship. This allowed the team to design and purchase team t-shirts for the competition. They would also like to mention team member Ellenor Turner, year 10, who could not make it on the day due to her swimming commitments but will part of the team for the international event, and Esther Buston and Grace Critchlow in year 7 for their amazing support throughout the competition.
The school would also like to say a huge thank you to our senior technology technician, Mrs Julie Carr, for her superb organisation and encouragement, to Mr Dave Lydford and to all the parents who came along to support the students. Special thanks to Nicola Rabbitts for the amazing lego league cake (see picture below!)
This is a major achievement and the students should be extremely proud, not only for their superb performance on the day but also for their commitment and hard work getting to each of the stages and for representing BCS in such a fantastic and positive manner.