Counselling
Meet Debra MacDonald- Webb, our School Counsellor who is based at Buxton Community School.
Full Time Counselling Service
Counselling gives you a chance to talk/open up about what is bothering you with someone who is not connected with your family, friends or school. A counsellor won't tell you what to do, but will help you to make your own decisions. It can really help to talk sometimes; you may feel anxious and down but not know why. If you're not sure whether counselling can help, come along anyway! If I can't help, I'll do my best to work with you to find someone who can. Whatever we discuss is confidential within the service, unless I believe that you, or someone else is being harmed or at risk of being harmed.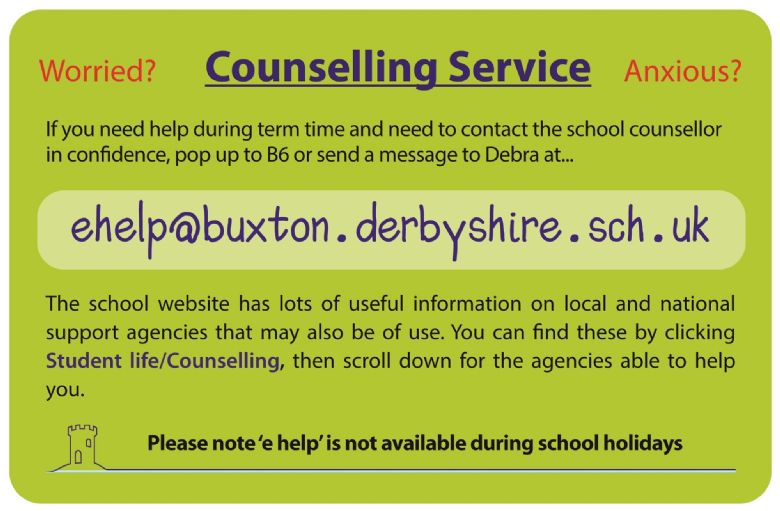 To book an appointment, change an appointment or make a referral, e-mail Debra during term time only at ehelp@buxton.derbyshire.sch.uk
Certificate in Counselling/Diploma in Counselling/Advanced Certificate in Supervision
MBACP (Senior Accred with Children and Young People) UKRCP registered independent Counsellor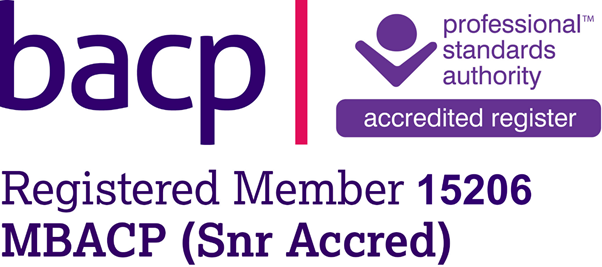 For counselling information for parents please download the document at the bottom of the page.
For information and guidance on counselling in schools from the BACP, please follow this link:
http://youthcounsellinghull.co.uk/resources/BACP%20School%20Counselling%20Good%20Practice.pdf
School Closure - how to access the counselling service
If the school is required to switch to remote learning due to Covid -19 then face-to-face counselling in school may be unavailable. However, telephone counselling can be offered during term time.
Alternative support can also be accessed via www.kooth.org or check out the information below for other organisations offering support:
If you wish to book an appointment or you are a student wanting advice on where to get support elsewhere. Please message Debra on the 'E help line' during term time office hours only, she will respond to your message as soon as possible.
For any student wanting telephone counselling, please see the instructions below.
Telephone Counselling
*Safe guarding will continue in the same way as counselling in school. If Debra is concerned for your safety, a safe-guarding form will be sent to the Safe-Guarding Officer and the usual procedures will be followed.
*Once the time of your session has been agreed, Debra will contact you on the given number.
*Please find a safe and confidential place to telephone, where you are comfortable to talk. Ensure you will not be disturbed or overheard during the session. Try to avoid unexpected interruptions.
*If there is a break in phone connection during the session, which cannot be re-connected. Contact me on the E-help line to re-schedule.
*Notes from the session will be added to your client counselling file and stored in a lockable cabinet.
If your concern is urgent and you need to speak to somebody straight away, please contact your DOCTOR or go to A & E.