Early Help - what is Early Help?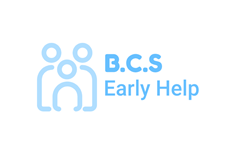 What is Early Help?
From time to time, family life can have its complications and sometimes families may need some extra help. To support and advise you at such times we have an Early Help Offer and a Family Resource Manager.
Early help, also known as early intervention, is support given to a family when a problem first emerges. It can be provided at any stage in a child or young person's life.
Early help services can be delivered to parents, children or whole families, but their main focus is to improve outcomes for children. For example, services may help parents who are living in challenging circumstances provide a safe and loving environment for their child. Or, if a child is displaying risk-taking behaviour, early help practitioners might work with the child and their parents to find out the reasons for the child's behaviour and put strategies in place to help keep them safe.
By working together, we can better support children and families. Sometimes families need support from a wide range of agencies or people, for example, health services, housing services, family support workers, social workers and local police. As a school, we may be able to signpost a range of services to support families beyond the educational setting.
Early Help services aim to both provide advice and/or intervene where there is evidence of emerging needs with the objective of preventing escalation to higher level services.
Our primary aim is to identify support early, and to make sure that appropriate plans are put into place. This will require working with the school staff and other agencies if needed. We will also use existing interventions already in place within the school setting.
What support do we offer?
Julie Woods is our Family Support Manager and she is able to carry out Early Help Assessments for young people who attend Buxton Community School.
Julie can offer advice on a range of concerns or signpost parents to other sources of information, help and support.
What sort of concerns might parents share with us?
A wide range of issues such as behaviour management, domestic abuse, mental health issues, housing concerns, financial worries and debts, mobility difficulties, parents in prison, bereavement and loss, cyber bullying – in fact any concerns which you are worried might be having a negative impact on your children.
How will we know when Early Help is needed?
Buxton Community School will use the Derbyshire County Council Early Help Thresholds alongside information from parents, carers, children and staff. This will help us to decide what kind of support is required. Practitioners may identify that there are emerging needs and a range of services might be required to best support the young person and their family.
We will assess the needs and this may identify that an Early Help Assessment is needed and the subsequent action that needs to be taken. Signs that a child or young person may benefit from early help include:
displaying disruptive or anti-social behaviour
being bullied or bullying others
having poor attendance at school
being involved in, or at risk of, offending
having poor general health
having anxiety, depression or other mental health issues
misusing drugs or alcohol
having a particularly challenging relationship with parents or appearing to be unusually independent from their parents
experiencing difficulties at home, such as domestic abuse, parental substance abuse or parental mental health problems
Some groups of children may be more likely to need early help than their peers. These include children who:
have been excluded from school
have special educational needs
are disabled
are in care
are leaving or preparing to leave care
are young carers
are young parents (or about to become young parents)
are experiencing housing issues
(Department for Education, 2018)
How will families be supported through our Early Help Offer?
Children and families will be supported and reviewed through the Early Help Assessment format, which is currently the assessment process used by the Local Authority. Our Family Support Manager can meet informally with parents/carers and children in the first instance and this can be followed by completing the Early Help Assessment.
Following the assessment, families may be supported by a range of professionals from within and beyond school. Team Around the Family meetings may be held in school to identify what is working well, what needs to change and to agree actions to help support families.
Gaining the views, wishes and feelings of the child is central to our safeguarding policy, and the Family Resource Manager also carries out direct work with children, for example 'Voice of the Child'.
We will contact the local Social Care Office when needed or Starting Point advice line.
An important role of the Family Support Worker is to step up the Early Help Assessment to Starting Point, where there has been no improvement to the welfare of the child, and there are escalating concerns around the safety and well-being of a child. Where there are immediate Safeguarding concerns, the case will be referred to Starting Point, the county's single point of access for safeguarding referrals, following consultation with the Designated Safeguarding Leads in School.
We will also continue to provide support for individual pupils through the already established interventions in school. We work closely with other agencies who can provide more specialist support for our families, for example, CAMHS and Crossroads as well as the Early Help Team in local schools. We can also signpost support groups and parenting courses on offer in the local area.
We will know if our Early Help work has been successful if it delivers these outcomes
Children and Young People...

Parents and Carers...

• Are physically and emotionally healthy

• Are resilient and able to learn well

• Are supported by their families, their community, and - when necessary - professionals to thrive and be successful

• Live in environments that are safe and support their learning and development.

• Are supporting one another in their

communities

• Know where to get help if they need it

• Have trusted relationships with practitioners, neighbours and other

parents

• Are well informed about how best to help their child develop and be motivated to make great choices.
When will Early Help be available through the school?
The Early Help offer provided by the school will be mostly available during term time only. The Family Support Worker may attend pre-arranged meetings during school holidays if the need has been identified for open cases. A reduced support service will be available to support families and young people who may require some support during the school holidays.
Our offer is embedded in Buxton Community School's Child Protection and Safeguarding Policy, Early Help, and is part of a continuum of work in helping keep children safe. We also have a system to address any concerns in our delivery of the offer, and this is addressed in the school's complaints procedure.
Our point of contact in school is Mrs Julie Woods and you can make contact by emailing jwoods@buxton.derbyshire.sch.uk or by ringing 01298 23122.
I am concerned about a child.
If you are concerned that a child is suffering or at risk of significant harm, please contact Starting Point: 01629 533190
I am unhappy with the support I have been given
If you are unhappy with the support you have been given through our Early Help Offer, please refer to the school's Complaints Policy.