Food and Cookery
Head of Department: Hannah Edwards (Contact)
---
Key Stage 3
All pupils have the opportunity to study Food and Nutrition at KS3. In Year 7 pupils have a twenty lesson module which gives them a good introduction to the subject, and a further 20 lesson module later in the year. In practical lessons pupils will cook a range of simple dishes and will learn the basic food preparation skills.
At the beginning of the course they will be given a recipe book and are asked to provide the necessary ingredients , a container and an apron for each practical lesson. The recipes can also be seen below and are also downloadable at the bottom of the page, should you wish to view this way or print a copy. In addition to developing their practical skills, pupils will learn about choosing a healthy diet and the importance of Food Hygiene.
Students will study Food Technology for 40 lessons in year 8 and 9 on a rotation with other technology subjects. Practical cooking lessons will be once a week and students will be required to bring ingredients and an apron. During practical lessons students will prepare and cook a wide range of dishes which include a variety of traditional British (such as Shepherd's Pie), foreign main meals (like Lasagne or Curry) and the occasional pudding! All are guaranteed to be delicious and will be enjoyed by families at home. Again, recipes can be seen below as a jpeg or as a PDF document at the bottom of the page.
During theory lessons students will cover a range of topics including the importance of healthy eating for teenagers, planning nutritious diets, food safety and hygiene, wise shopping and budgeting skills.
Rotas
New Rotas will be added in the new school year.
Your child will be participating in practical cookery sessions this half term. It is expected that students bring ingredients from home to cook. It is also useful if they have a suitable container, such as a plastic tub, and an apron to protect their school uniform. On some occasions an oven proof dish may be required.
All recipes are on the school website for your information.
If you are unable to provide ingredients please ring Miss Edwards on 01298 212158
Year 7 Ingredients List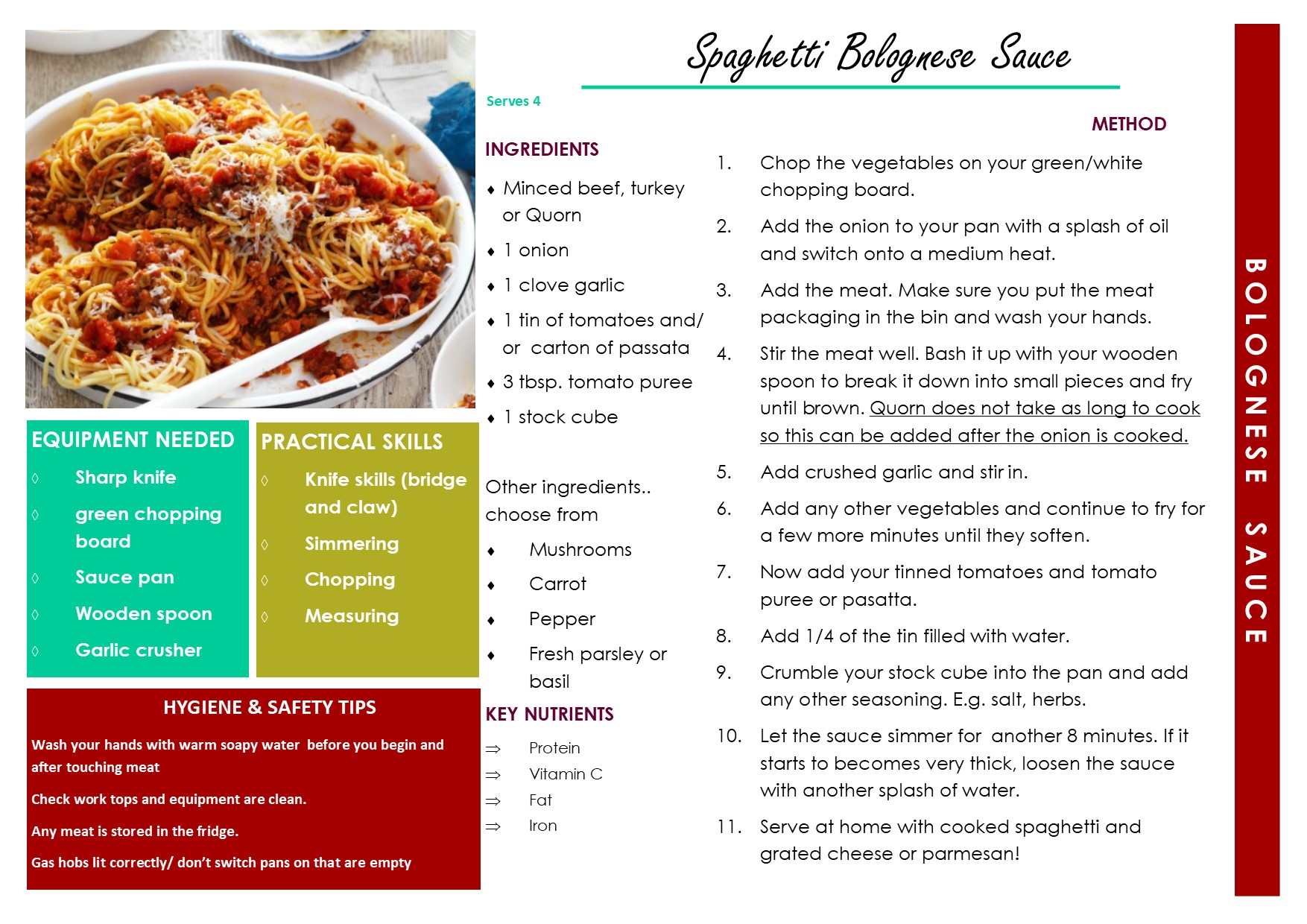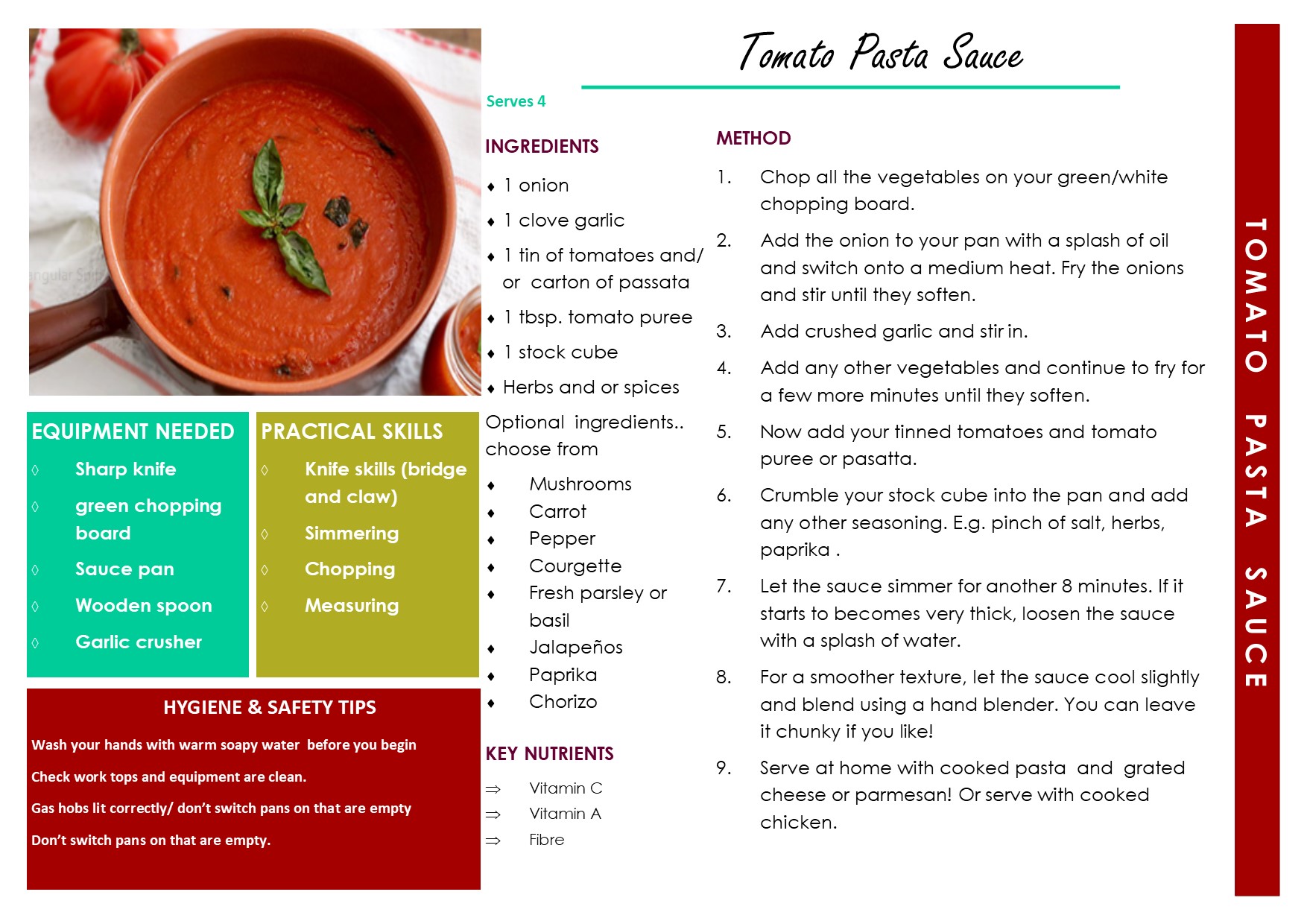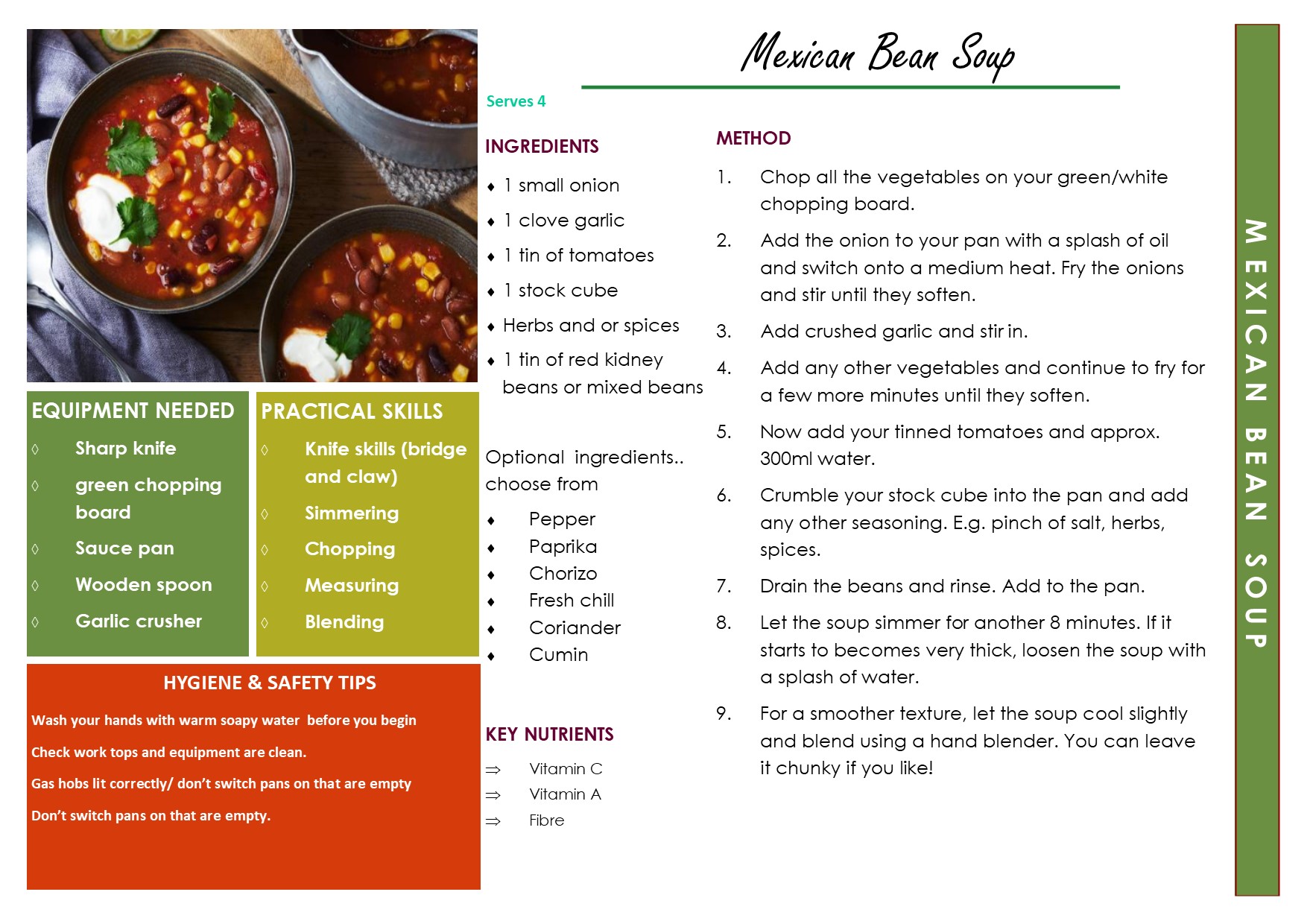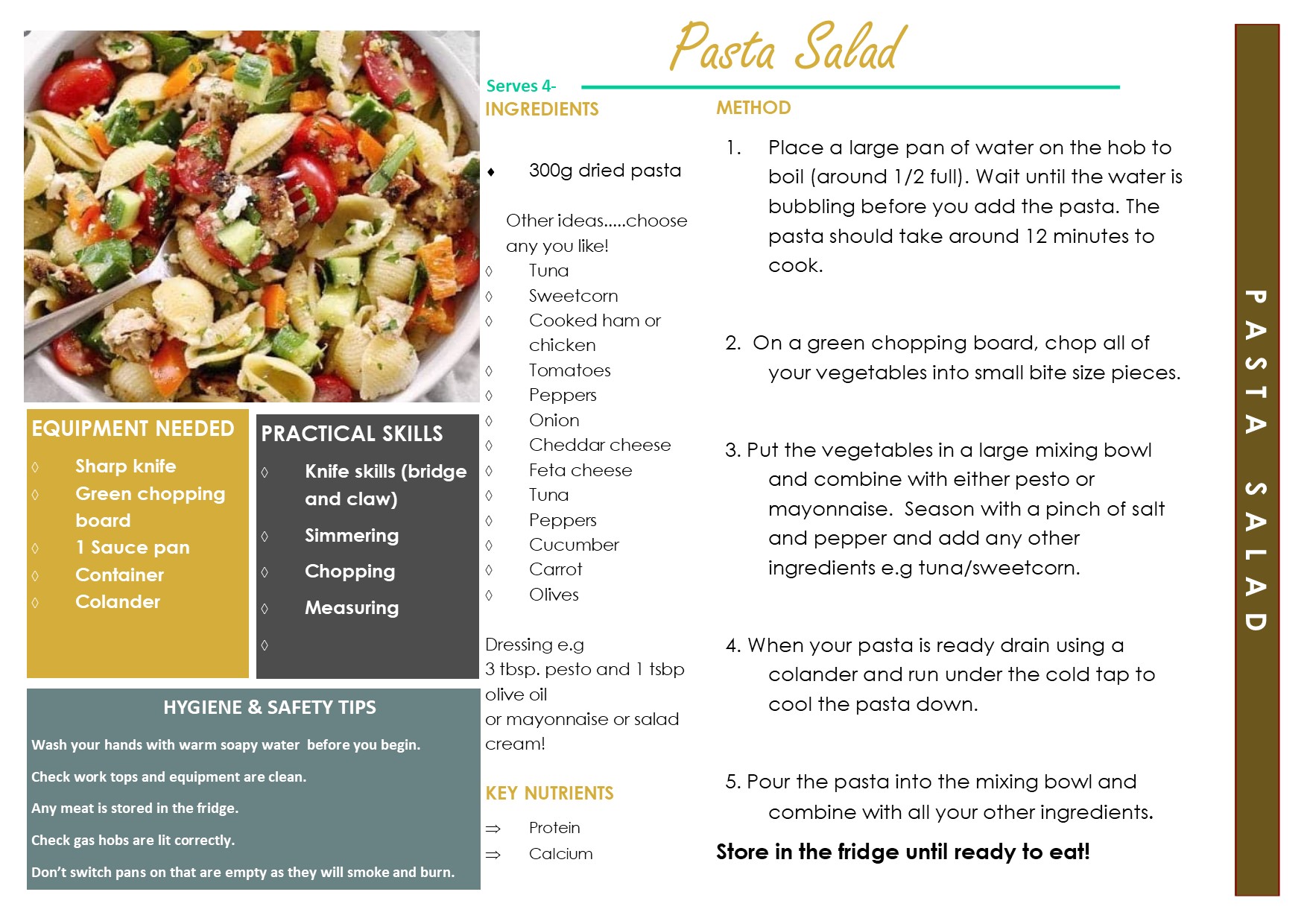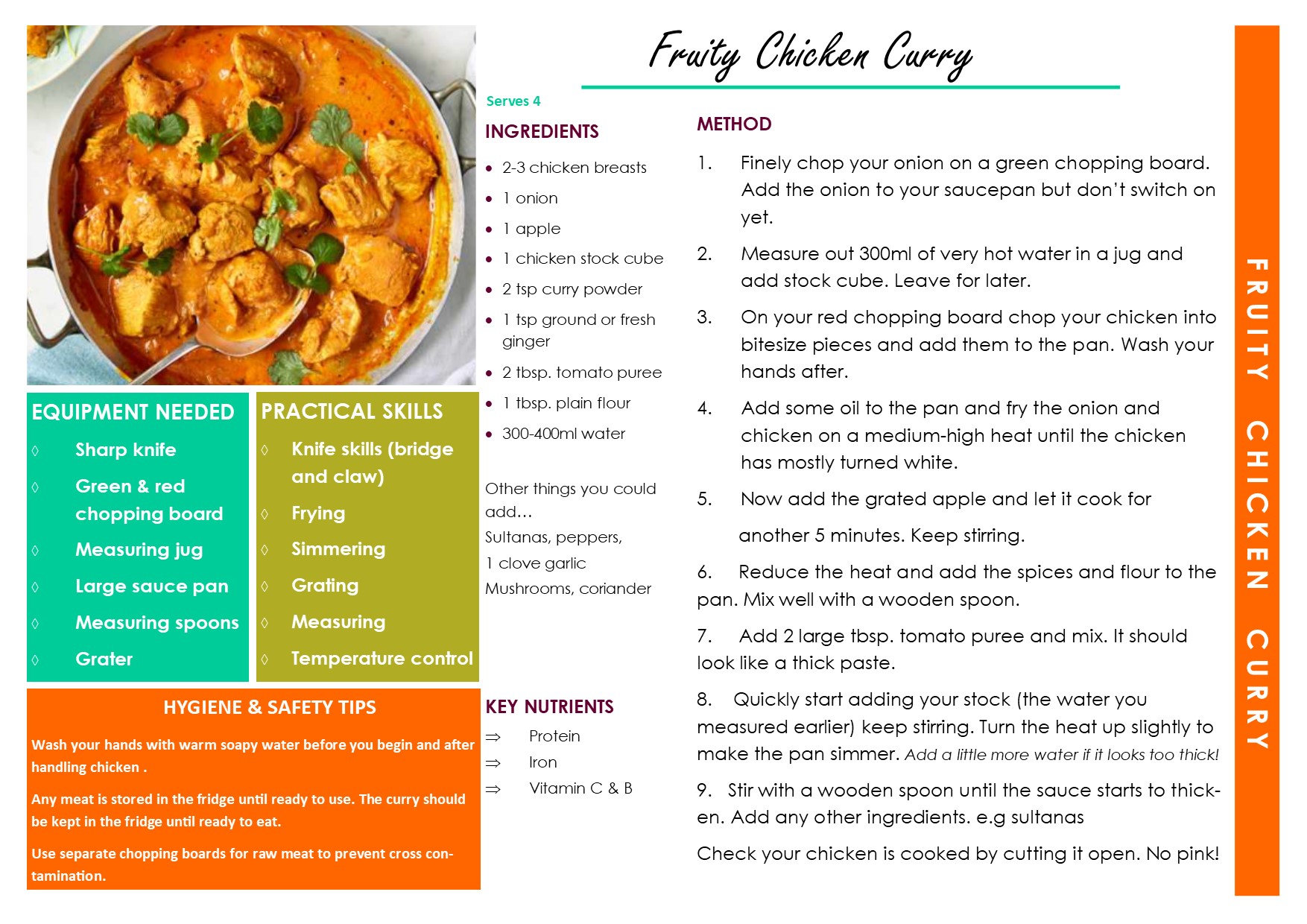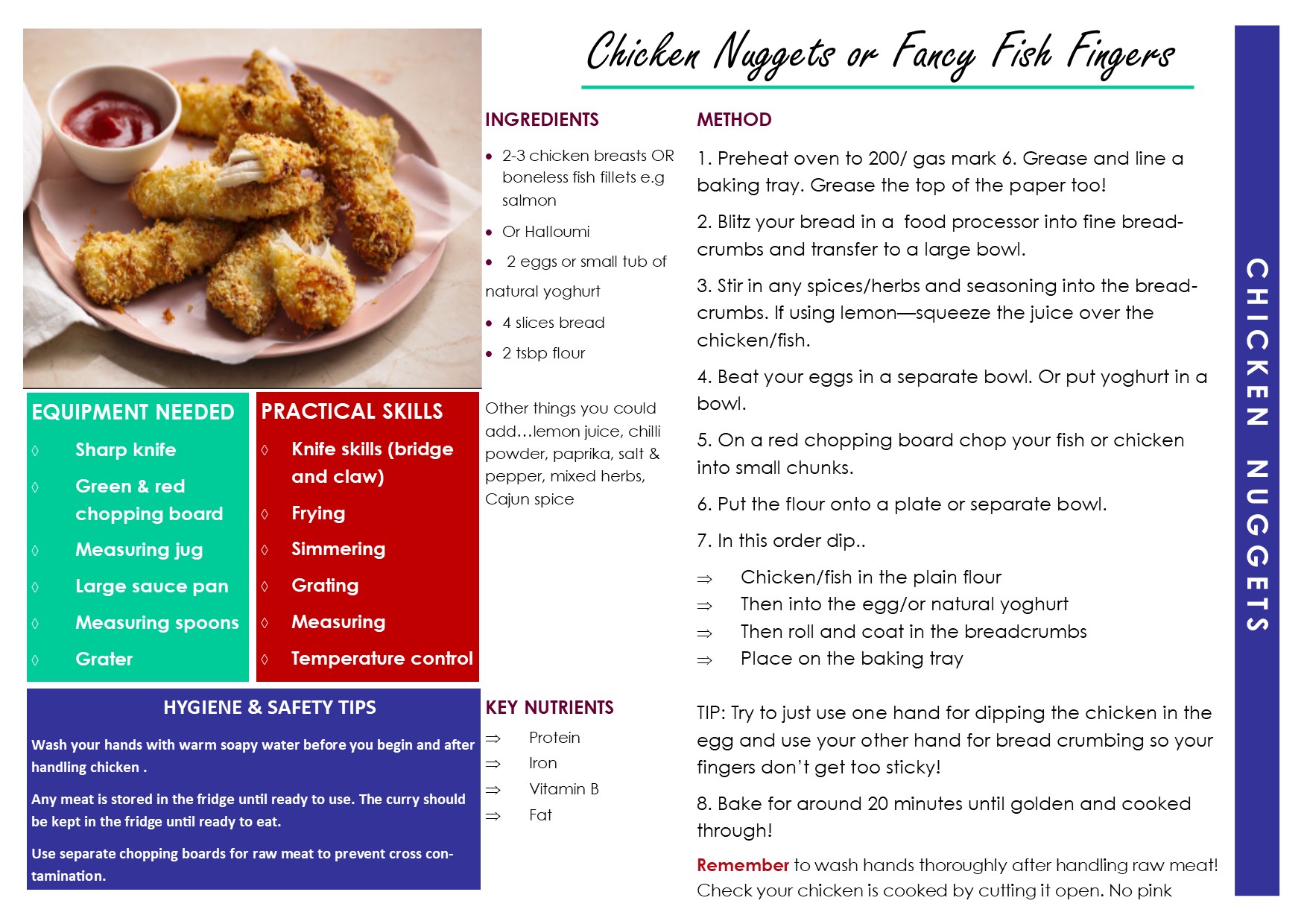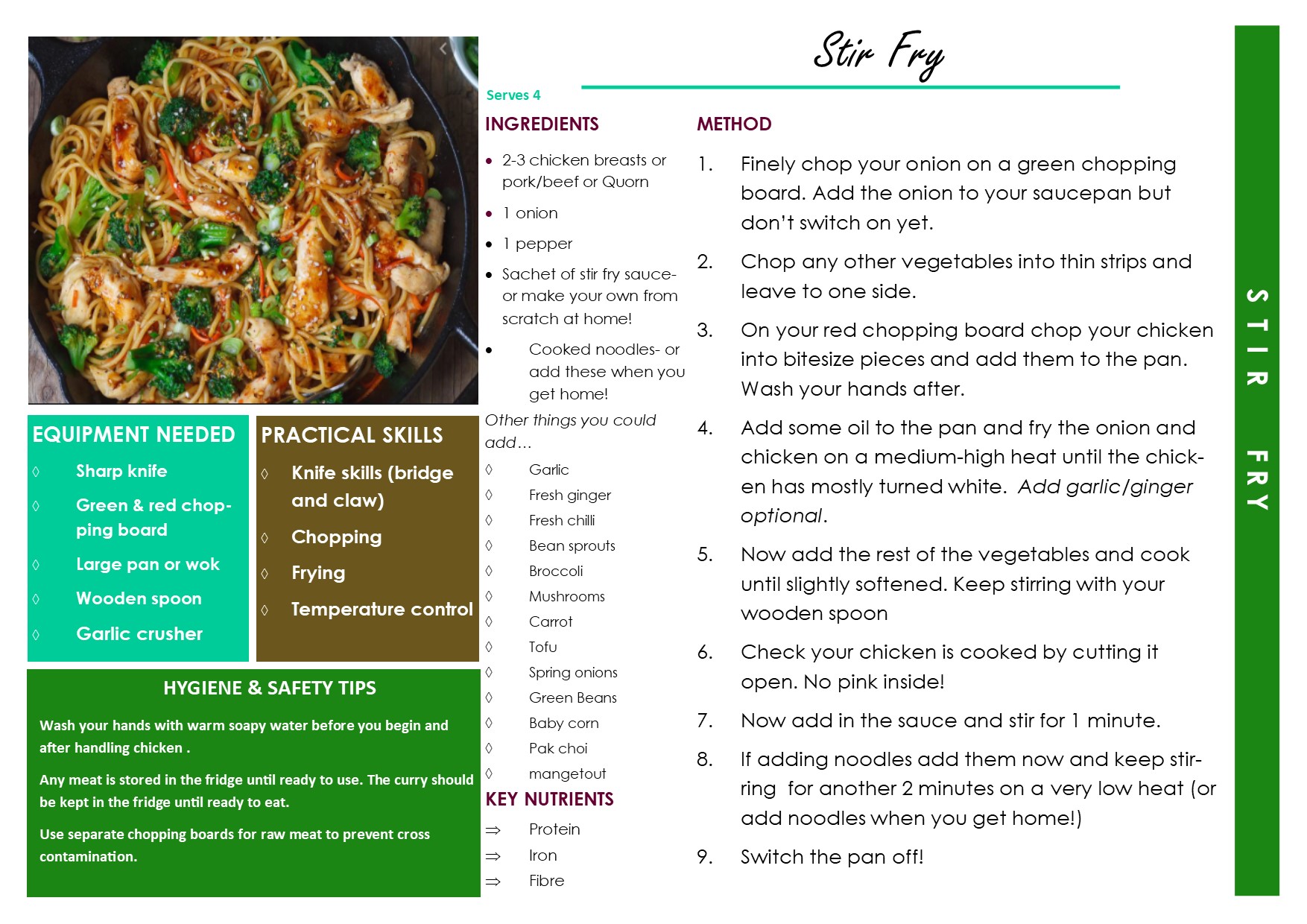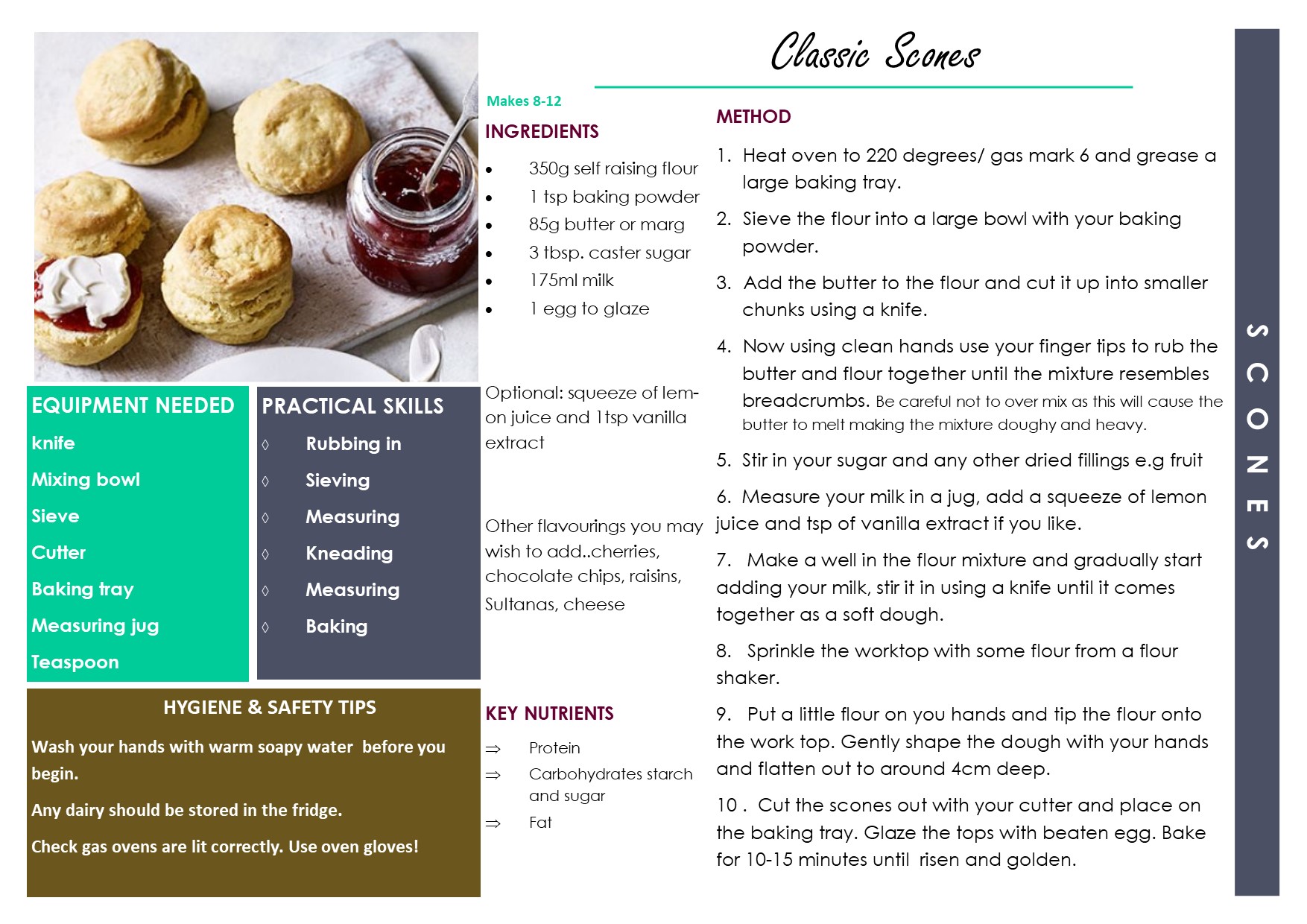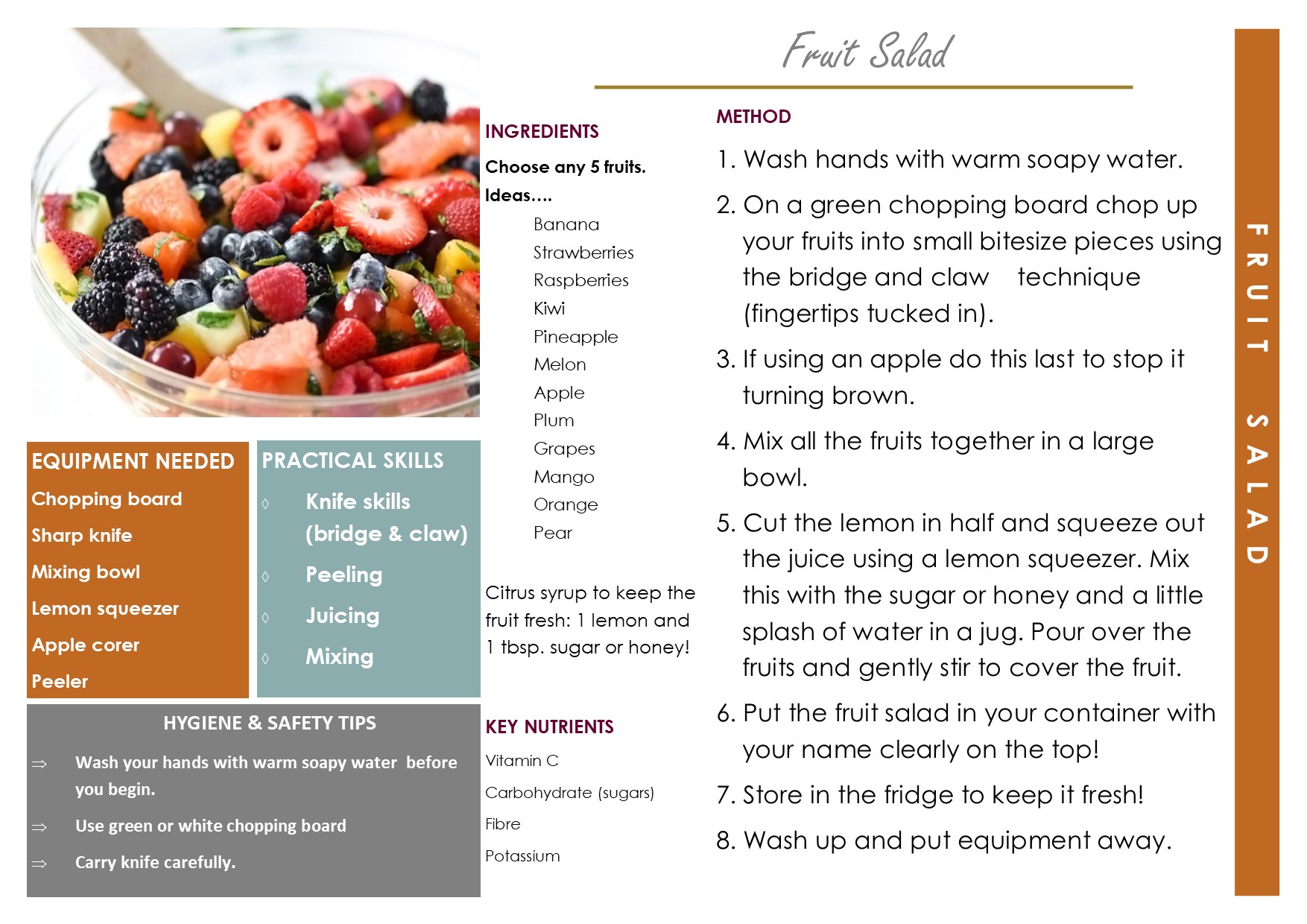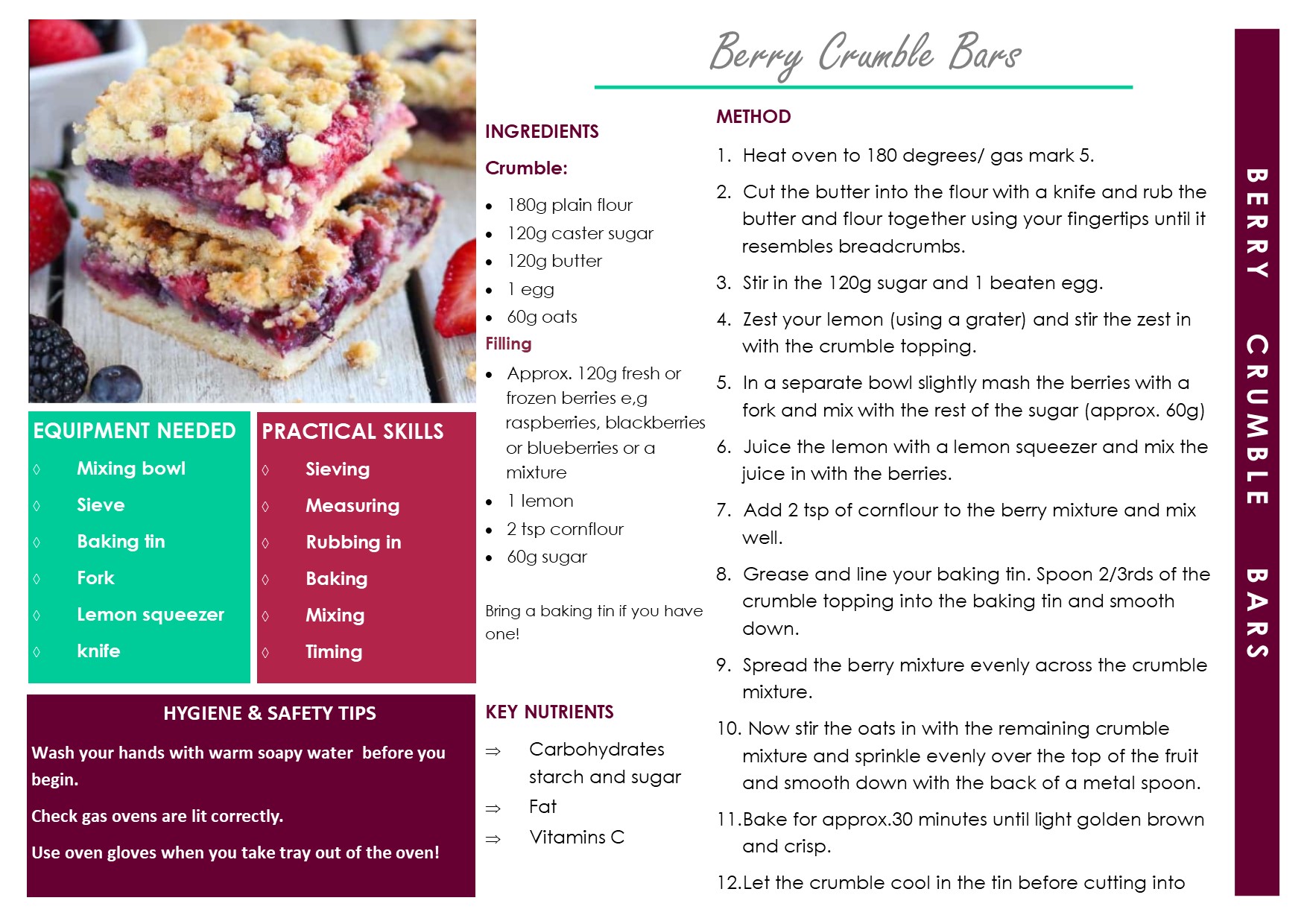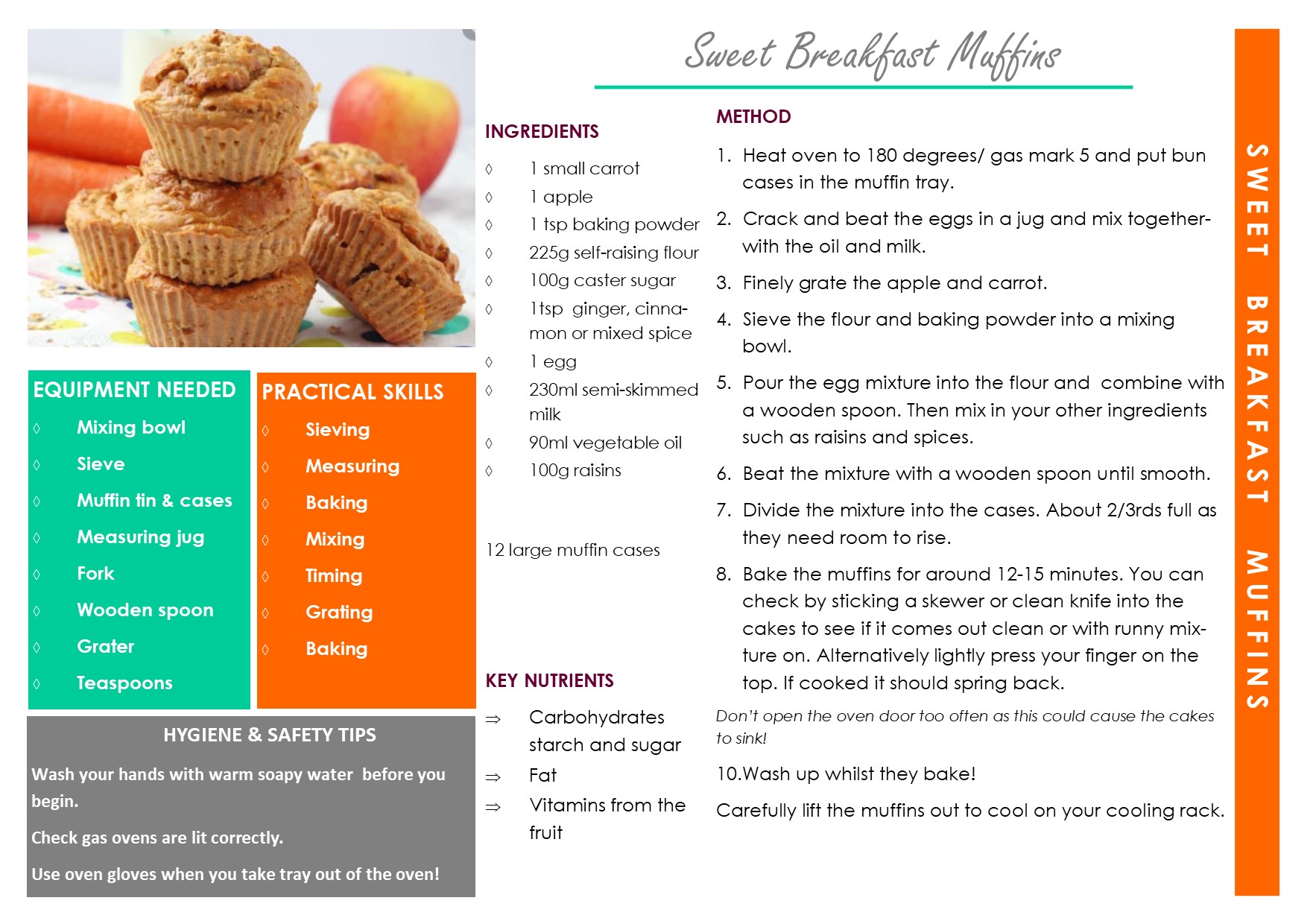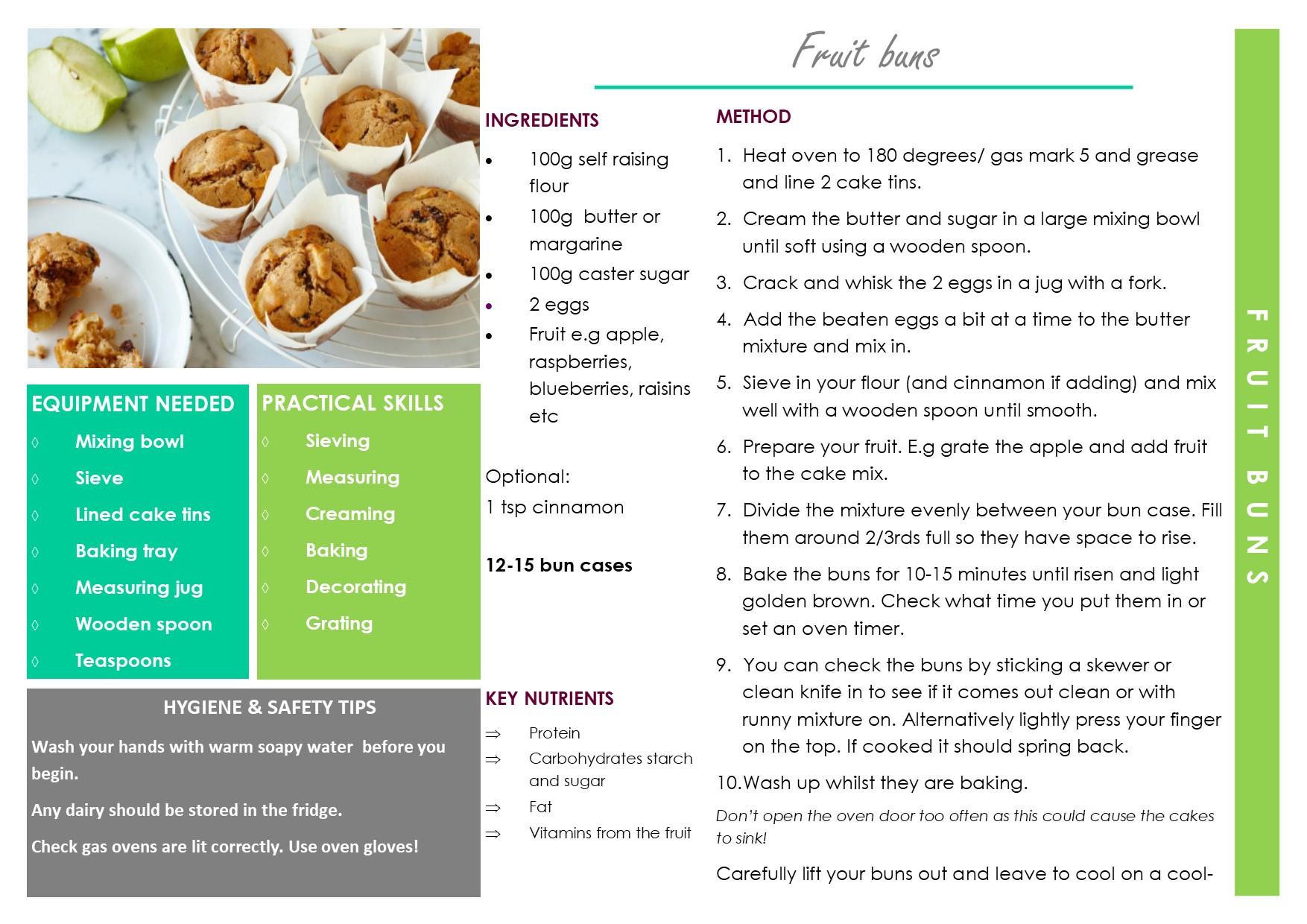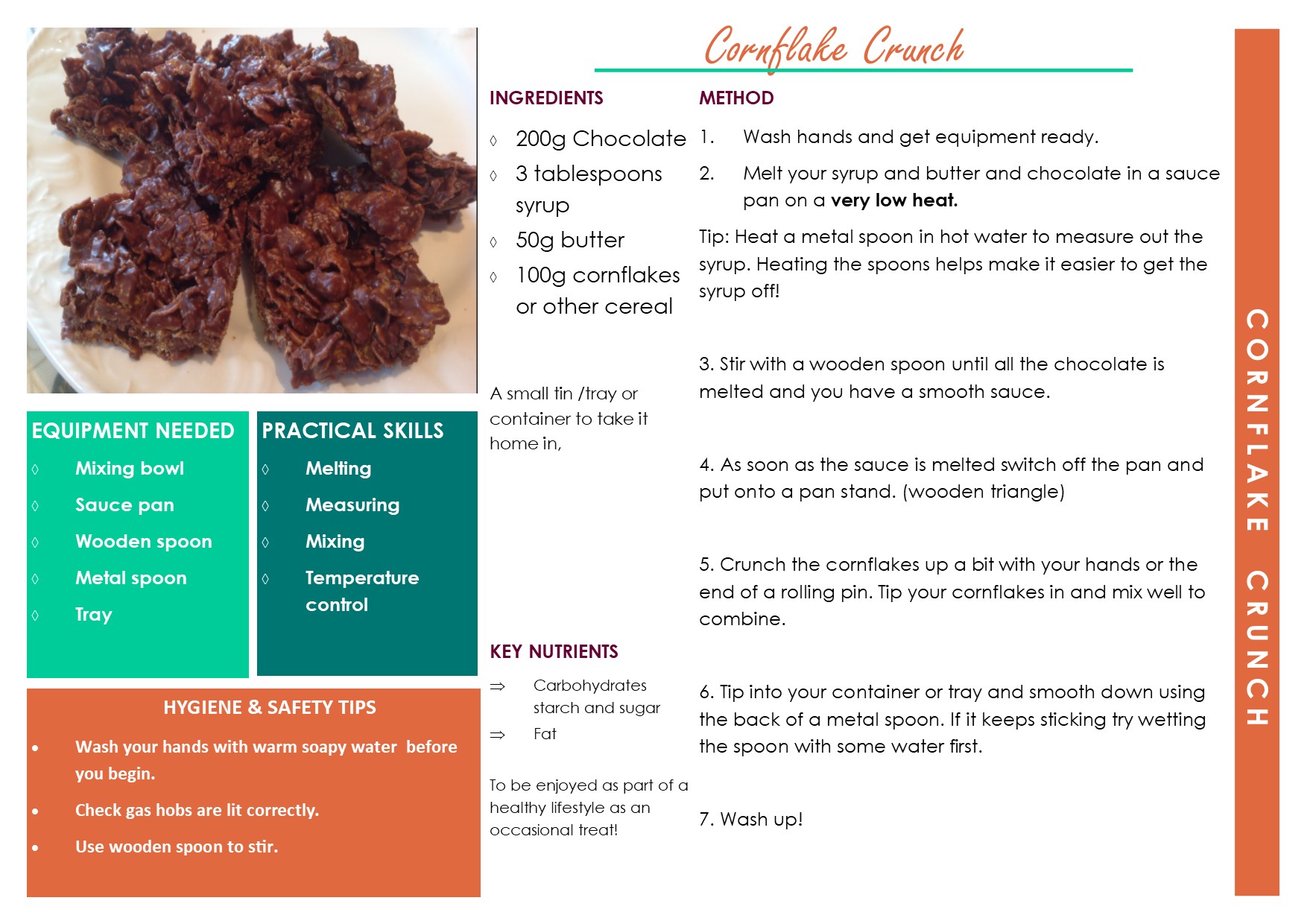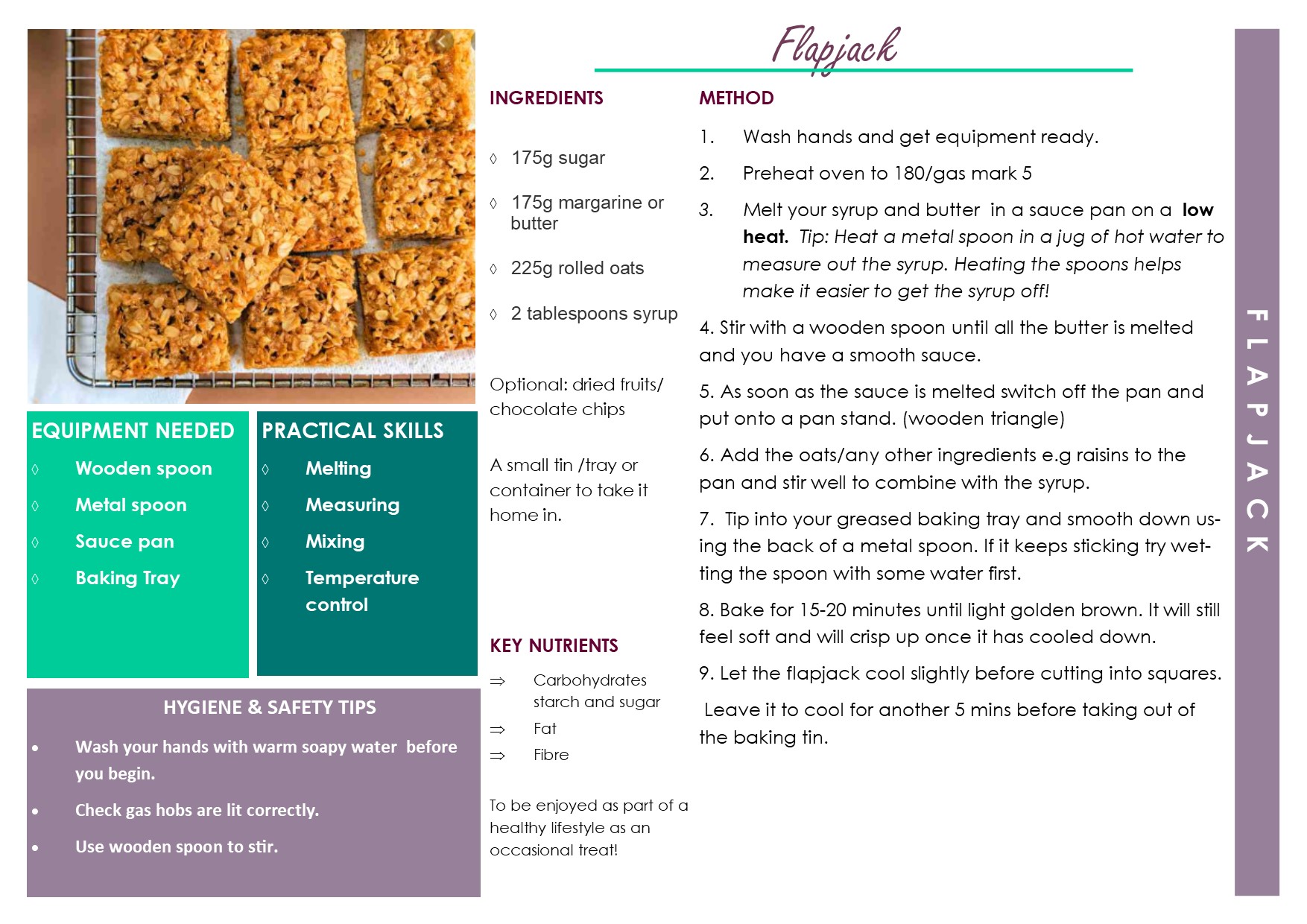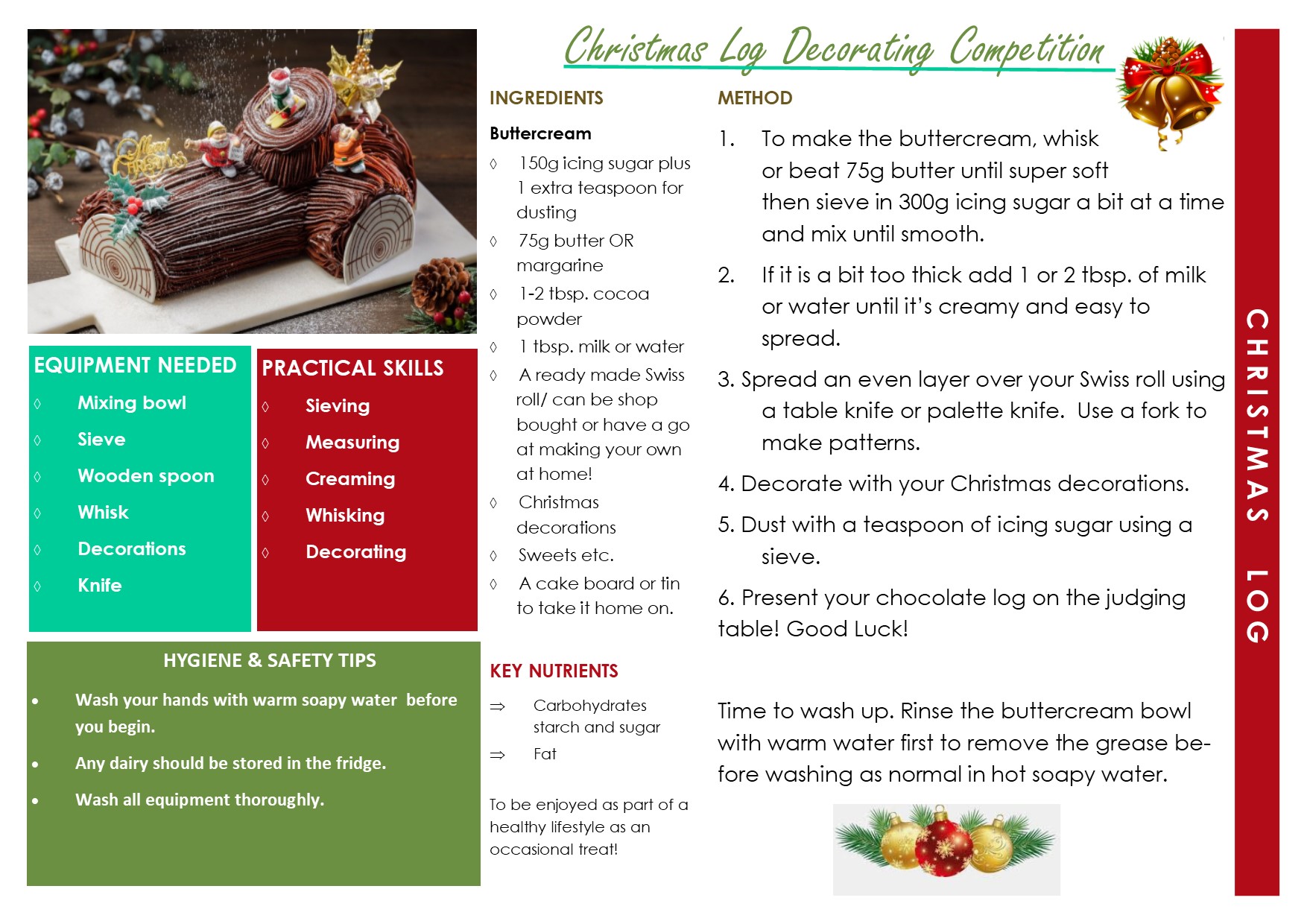 Year 8 Ingredients List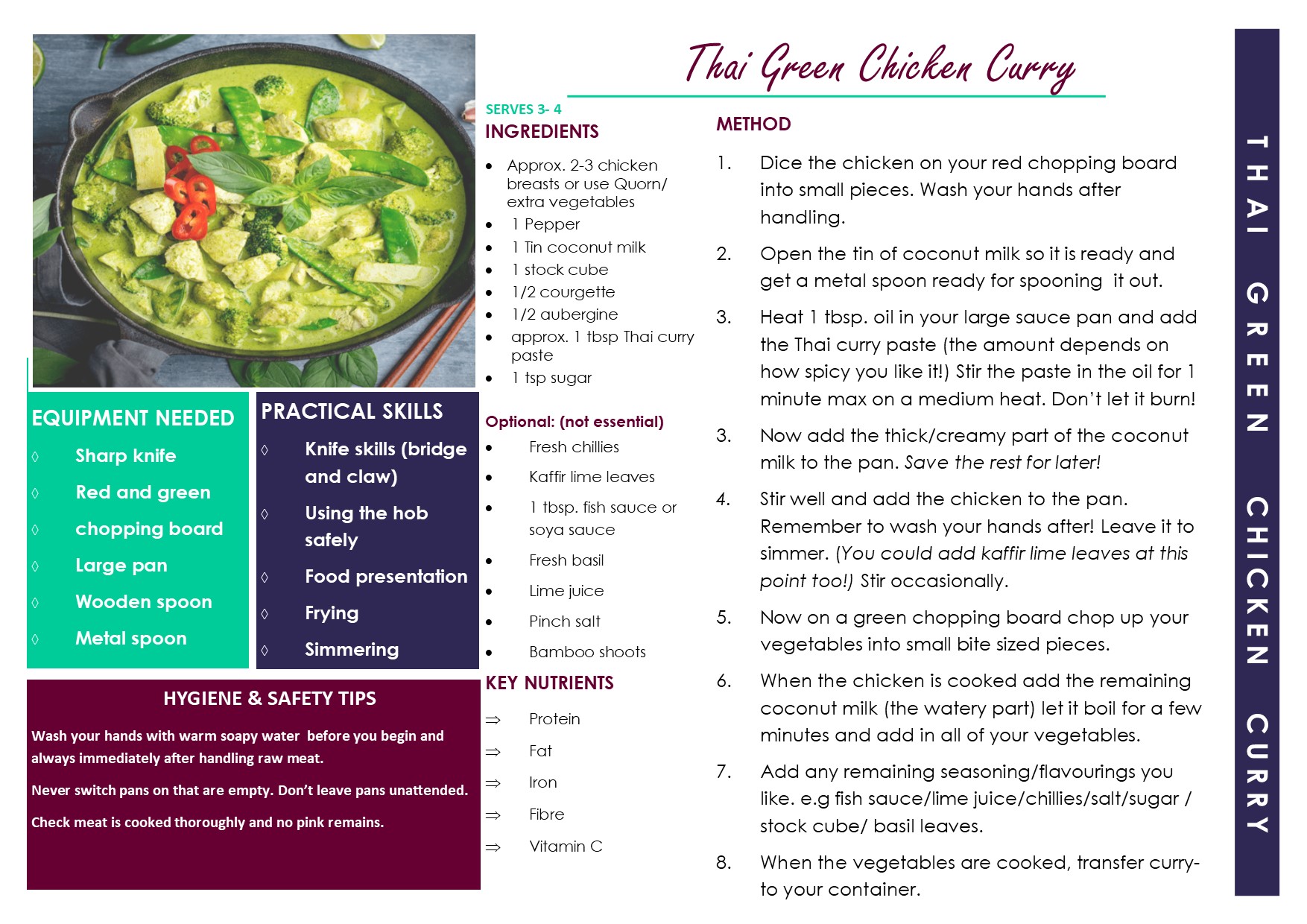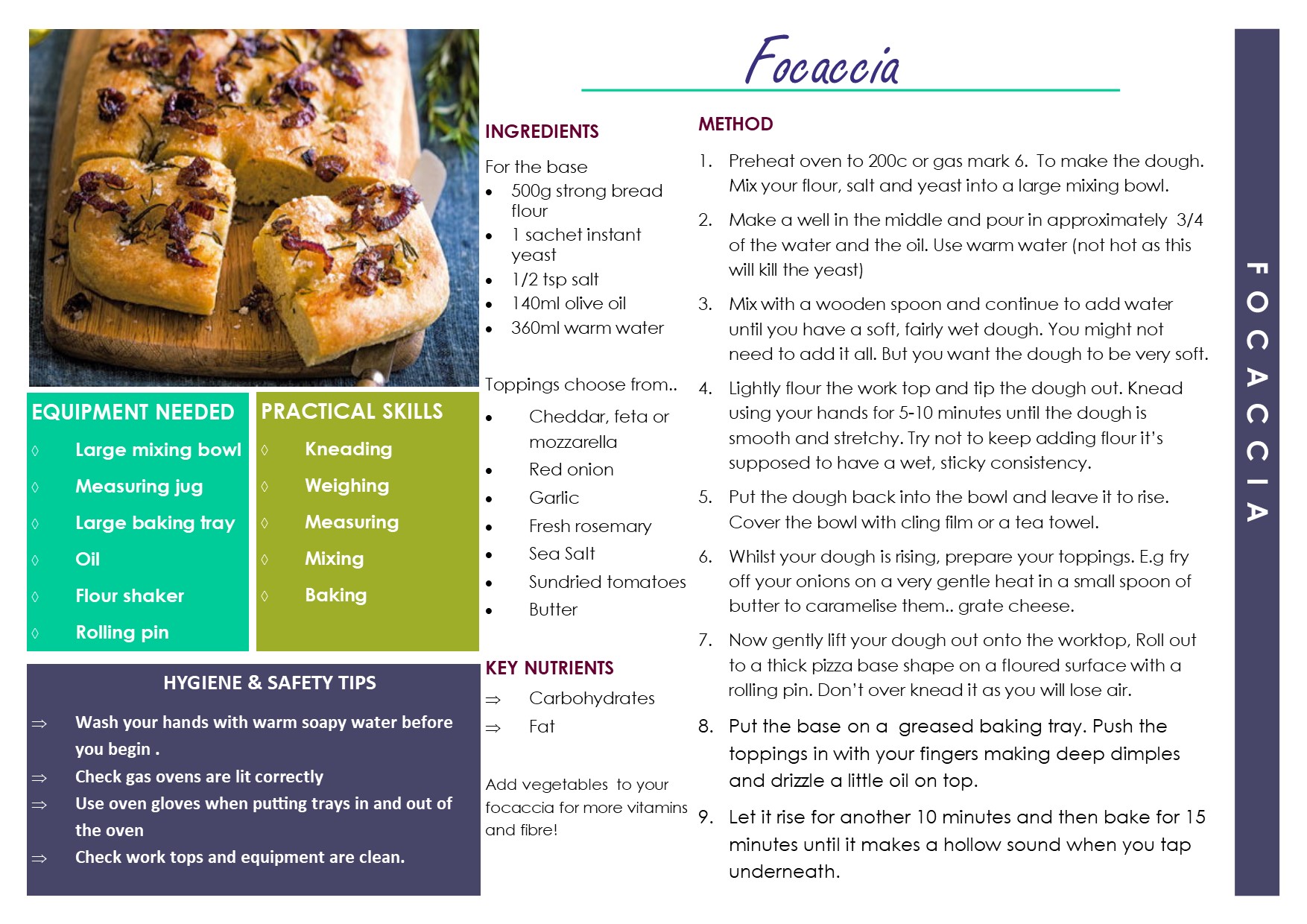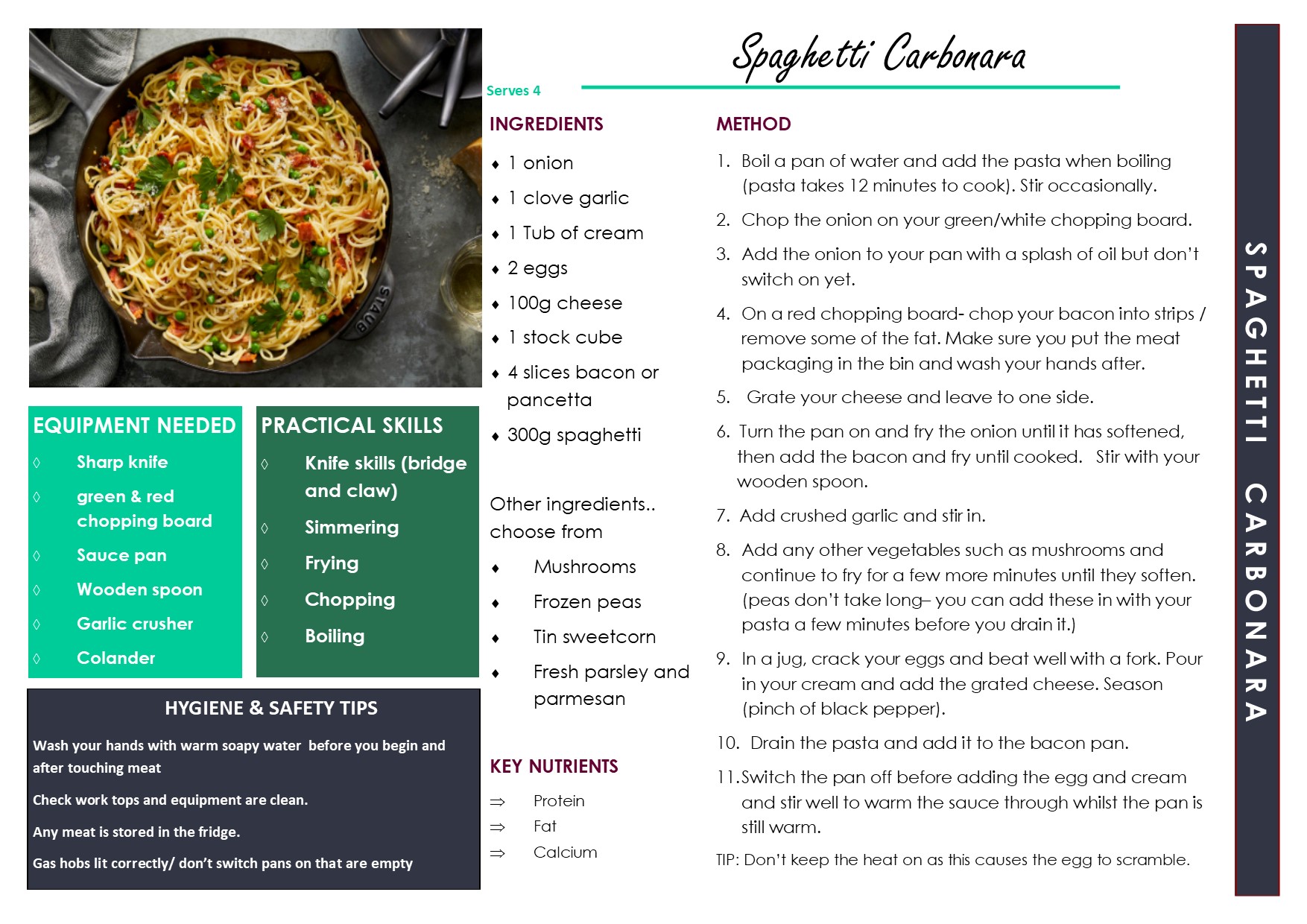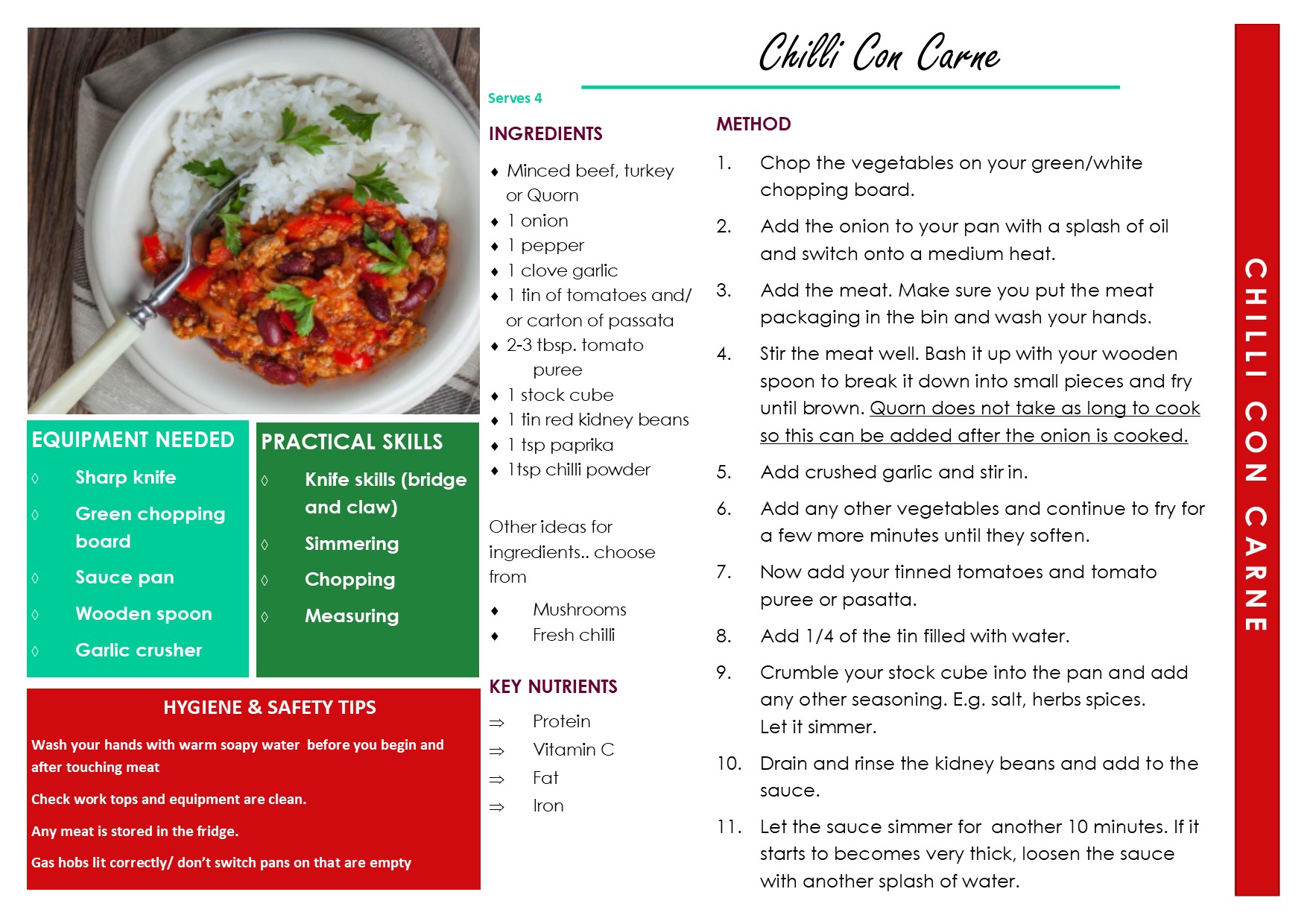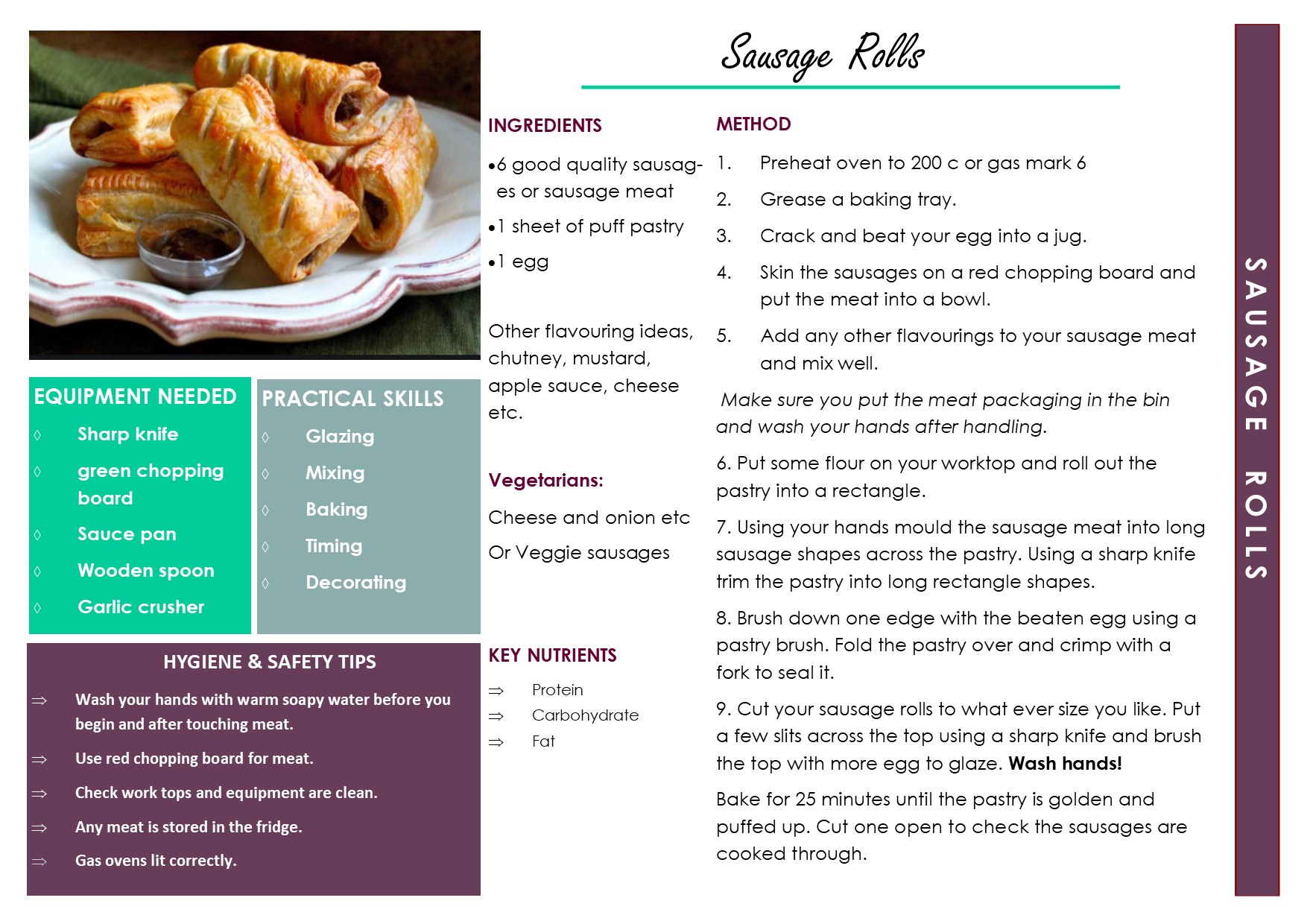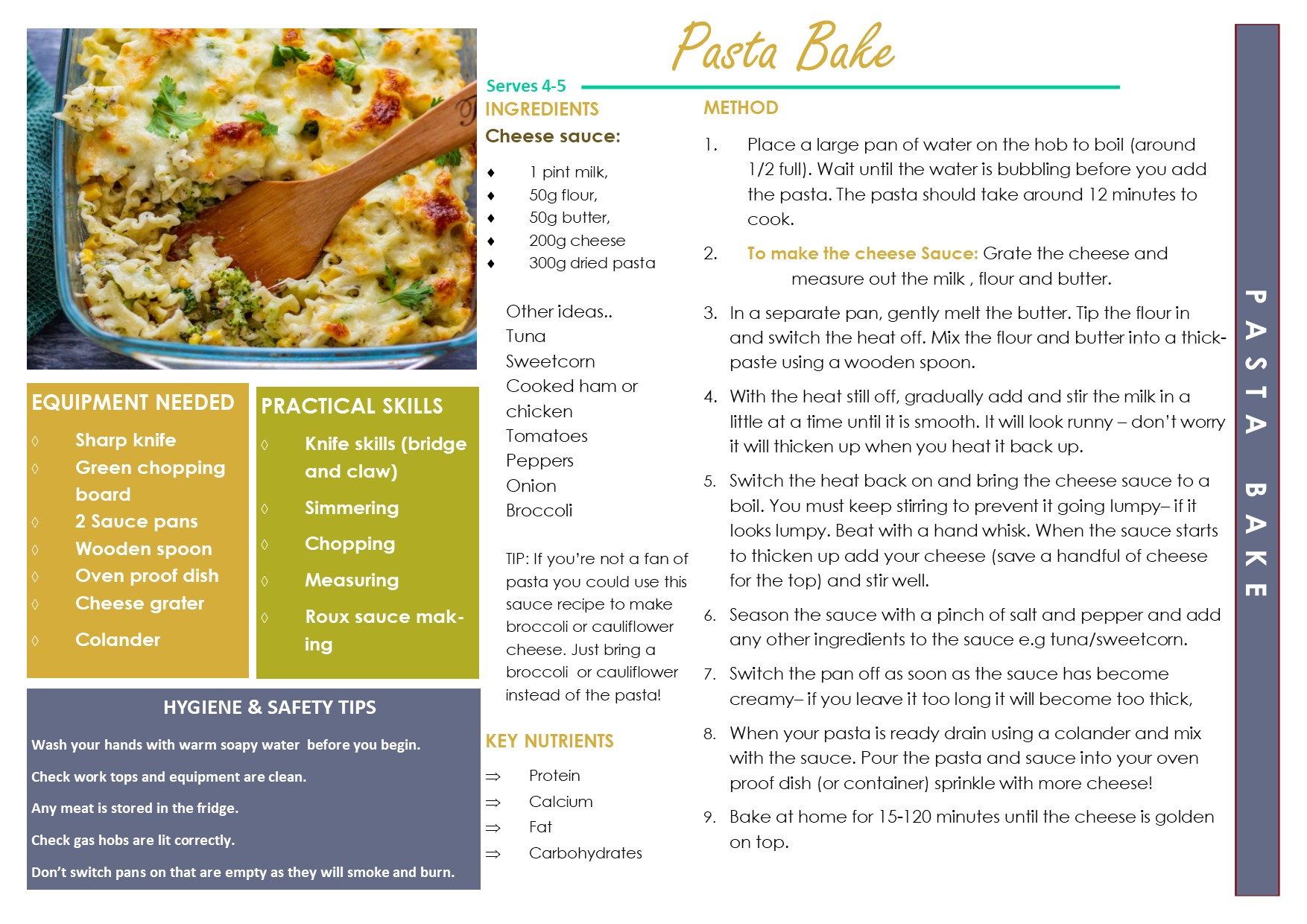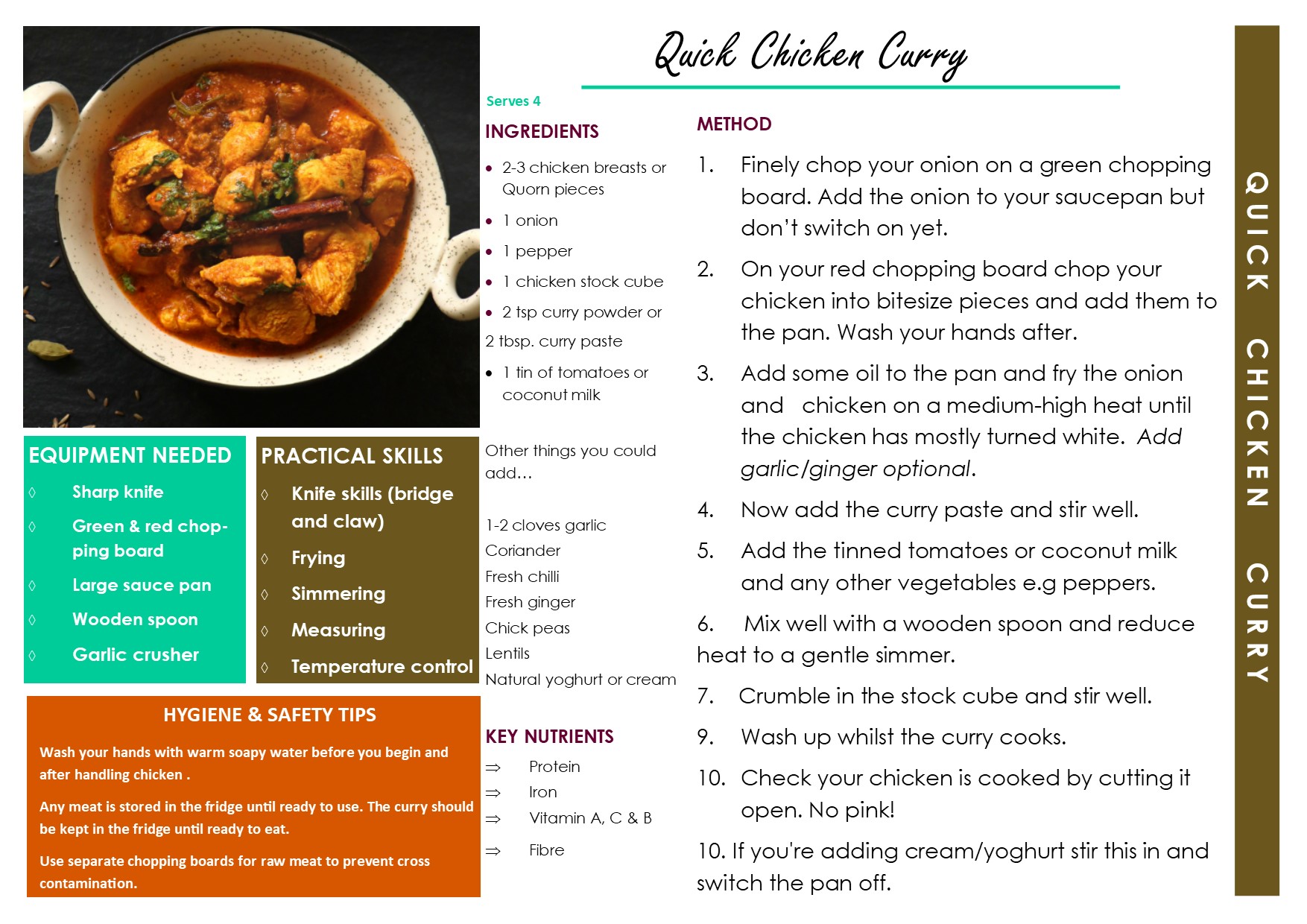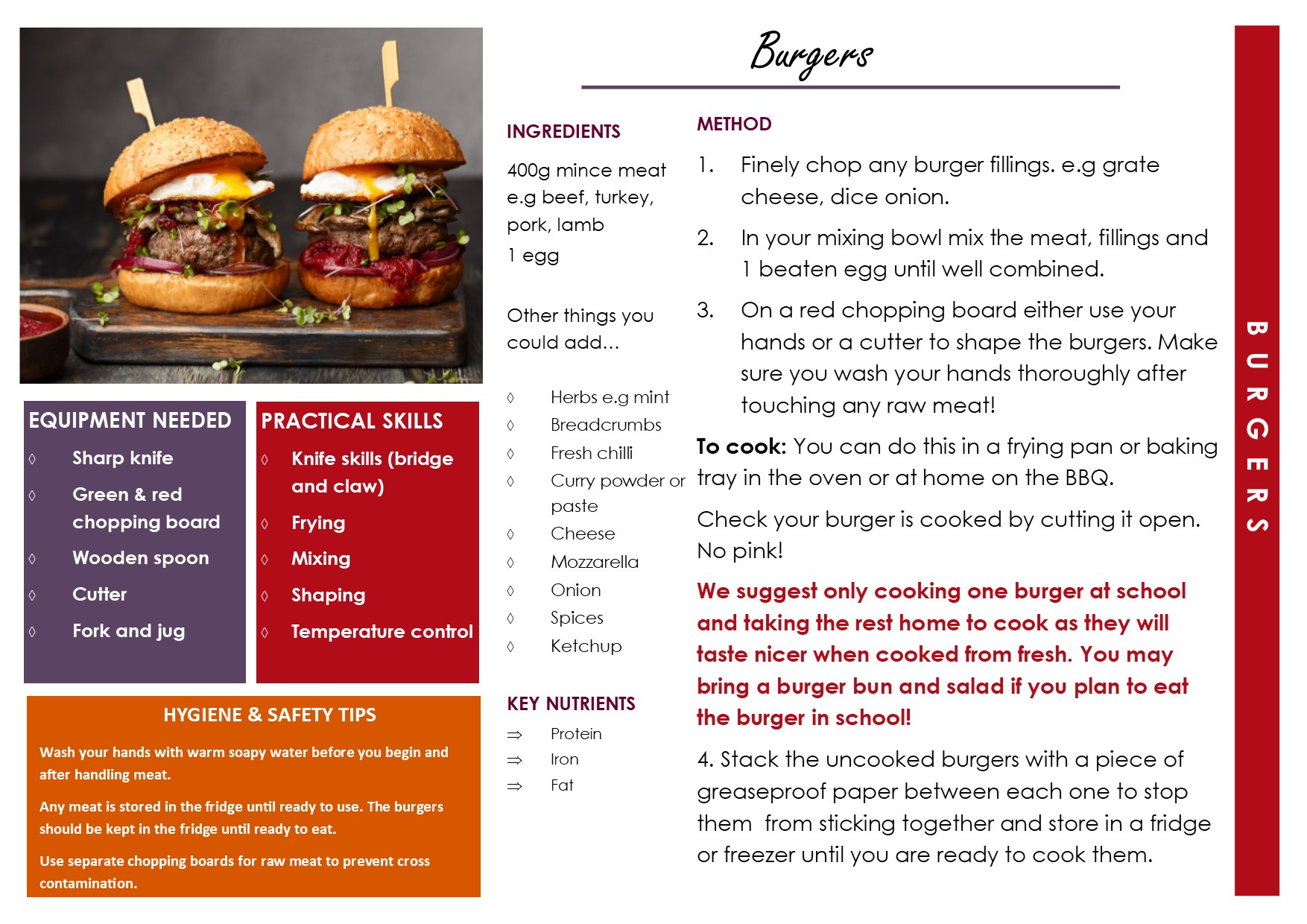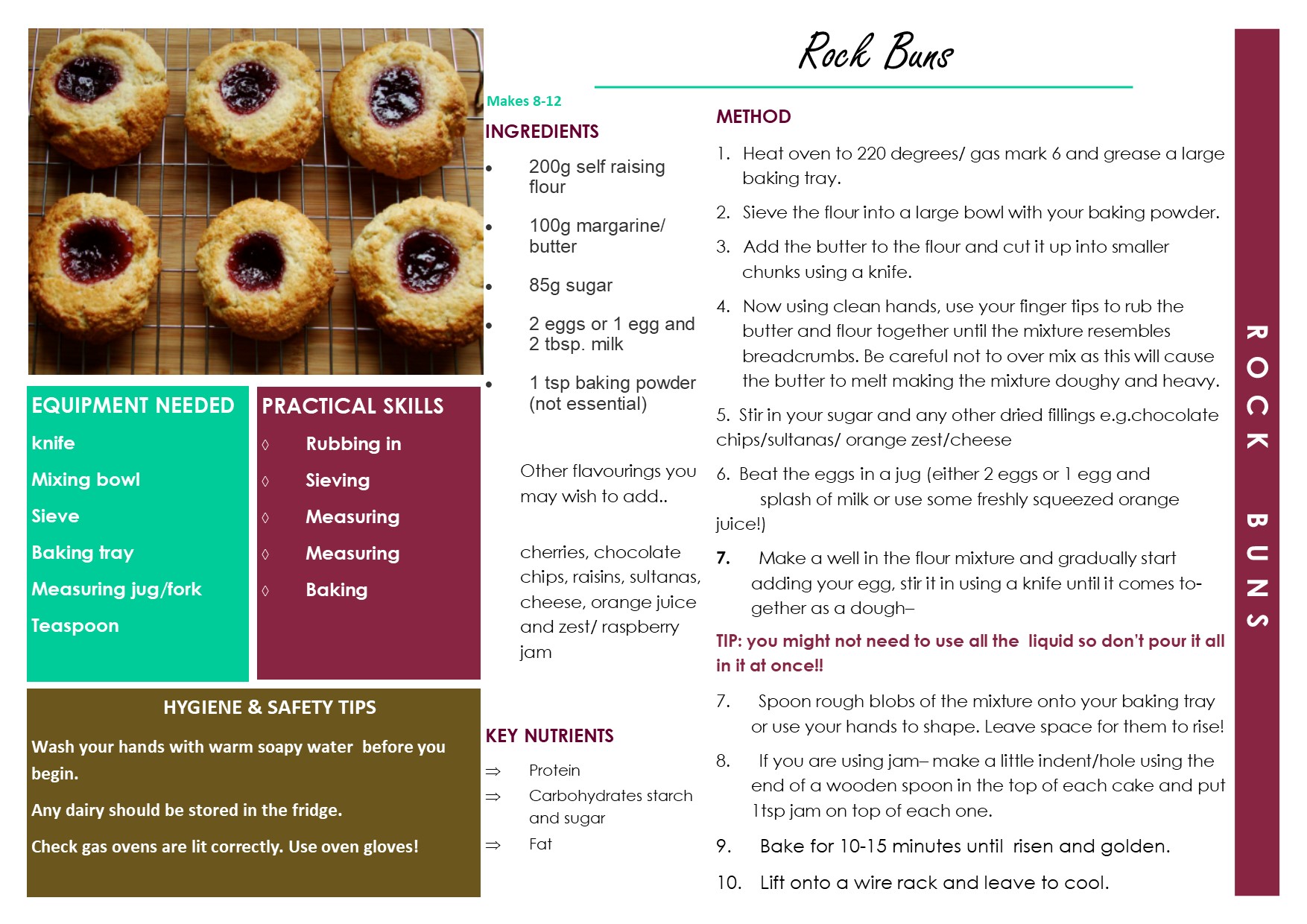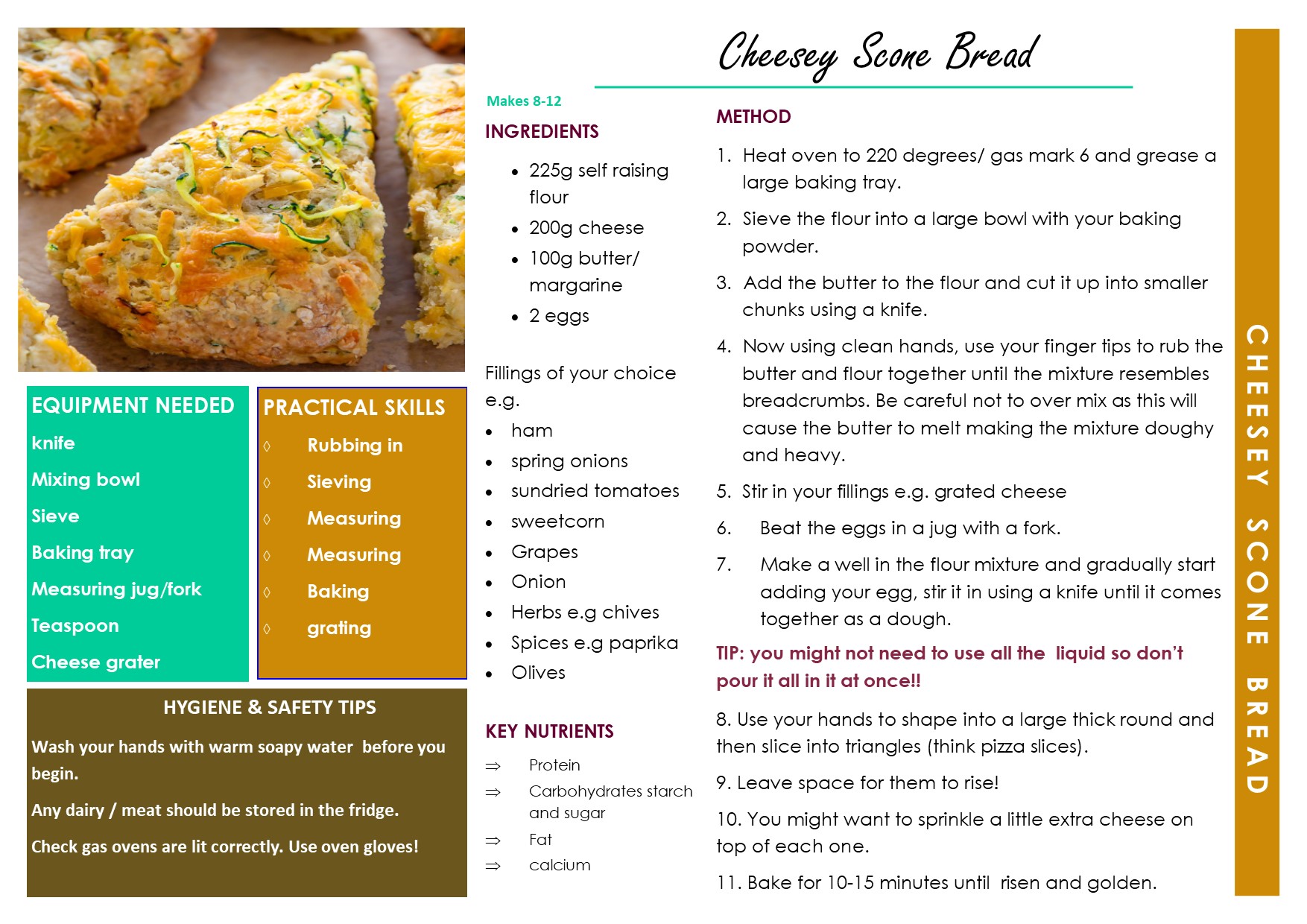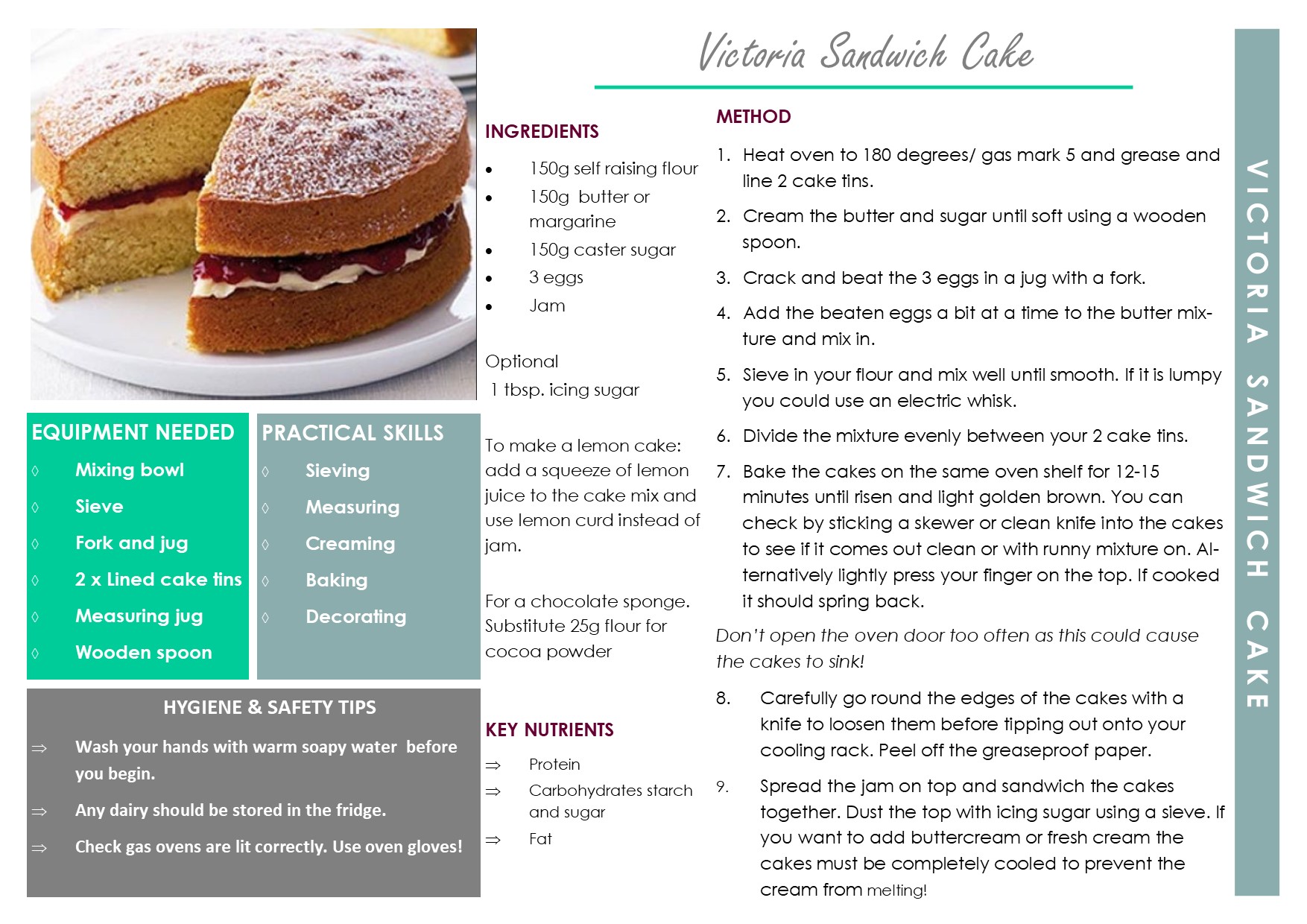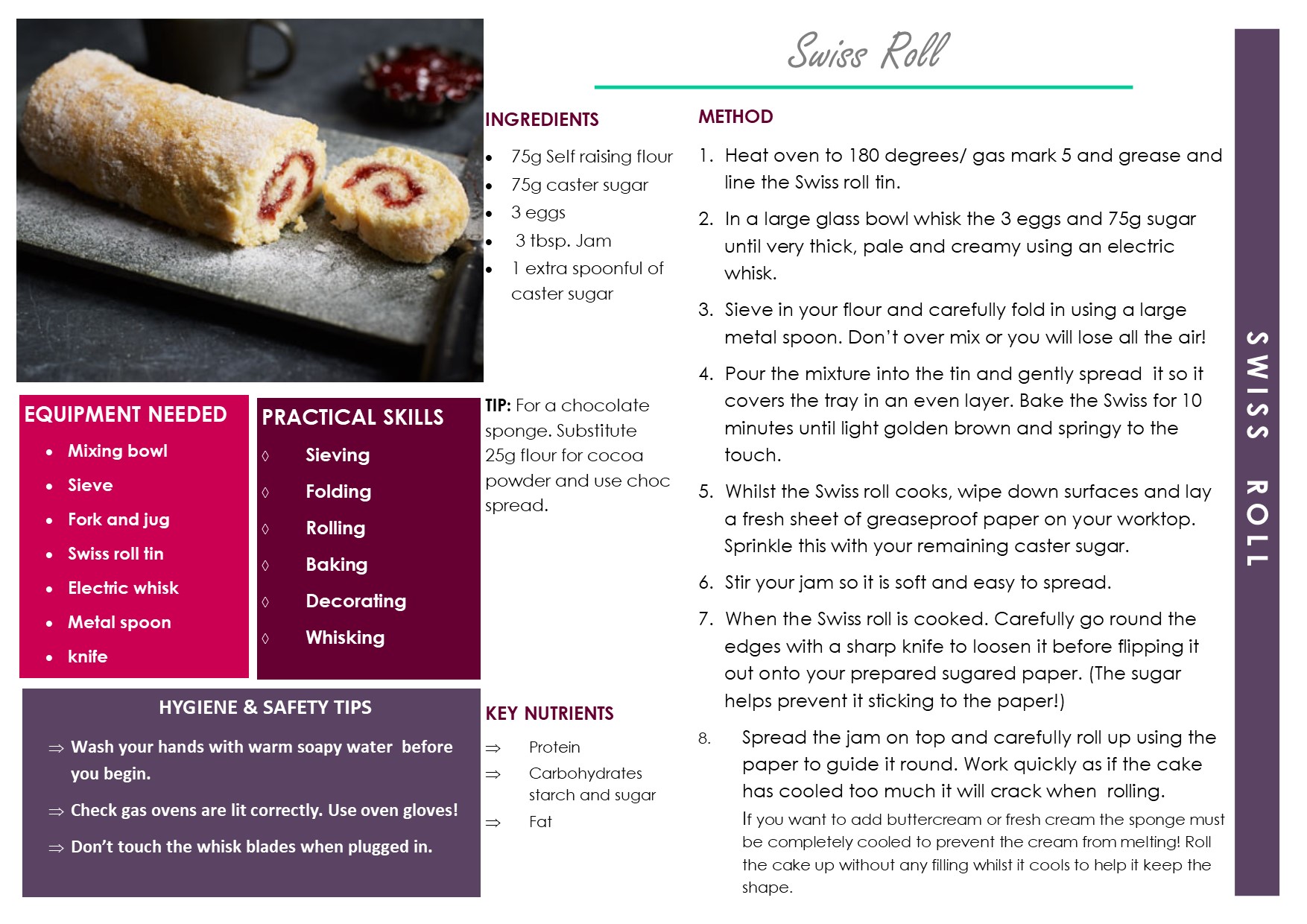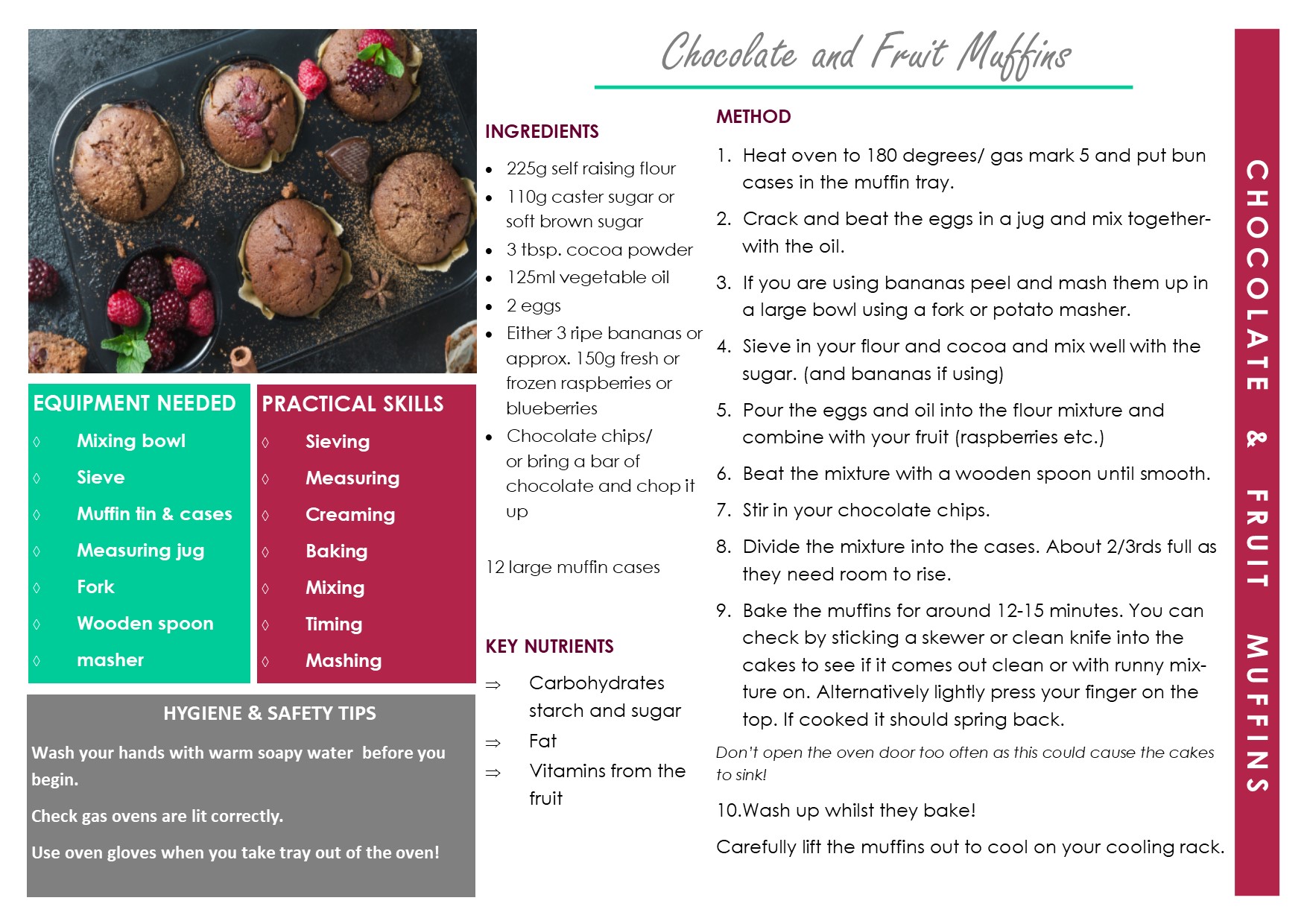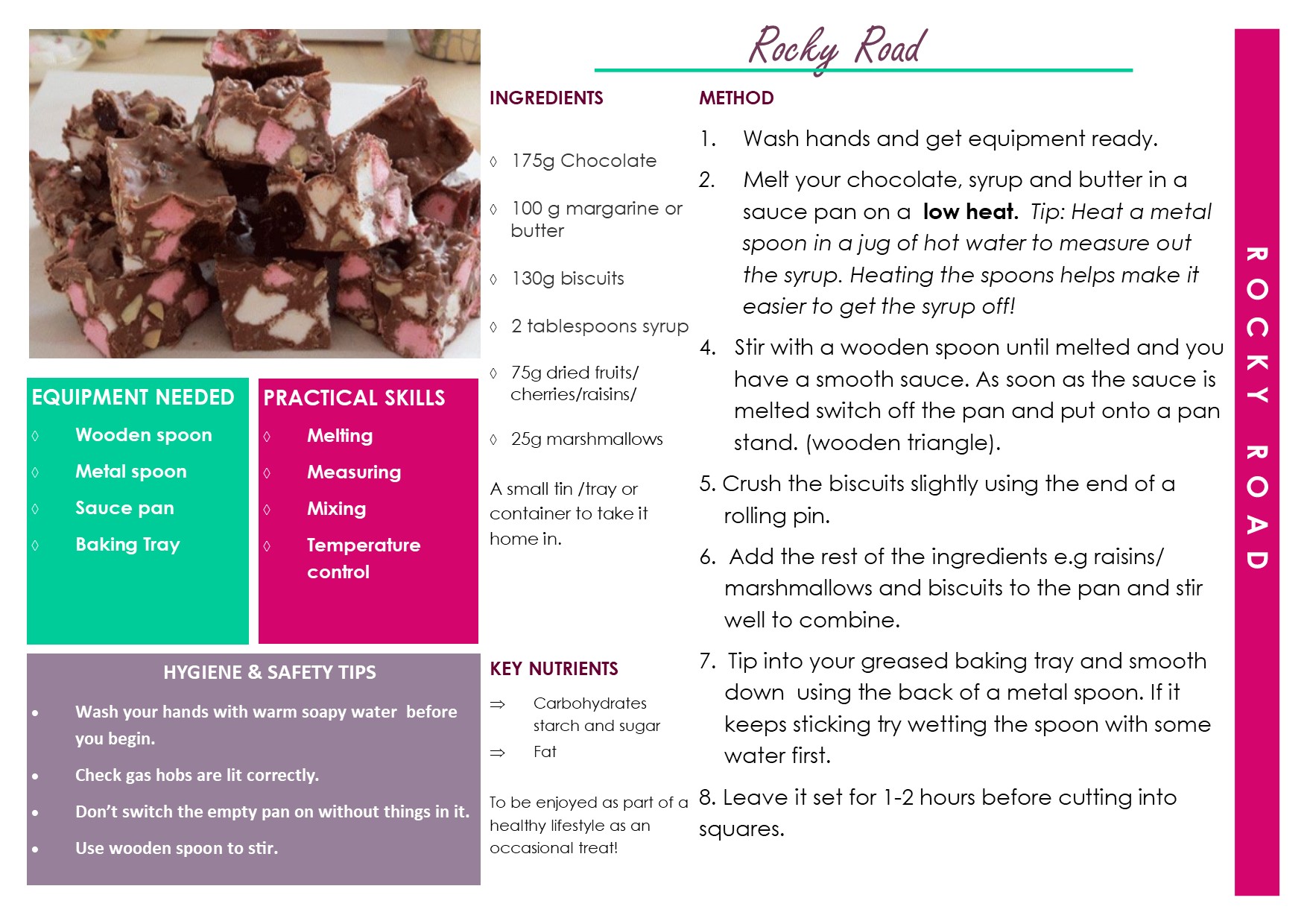 Year 9 Ingredients List
Sausage Pasta
6 good quality sausages
1 onion
2 large carrots
2 cloves garlic
1 tin tomatoes
2 tablespoons tomato puree
1 chicken stock cube
1 teaspoon herbs
150g pasta
Sausage PLAIT
1 packet of puff pastry
1 packet of sausages or sausage meat
1 onion
100g cheese
tomatoe puree
2 tablespoons tomato puree
1 tbsp herbs or a handful of fresh herbs
1 egg
Chicken Stew and a side dish of your choice
(Choose any veg you like - see suggestions below)
1 packet skinless boneless chicken thighs or fillets
4 bacon rashes (optional)
1 onion
2 sticks celery
Mushrooms
1 tin chopped tomatoes
1 chicken stock cube
1 carrots
1-2 leeks
1 tbsp corn flour to thicken
Optional: bay leaf, tsp thyme, salt & pepper
Bring a container and transfer to your oven proof dish at home!
Dauphinoise Potatoes (optional side dish for chicken stew)
You will need an oven proof dish/ tray
250ml double cream
250ml milk
1 garlic clove
3-4 potatoes
100g cheese (optional)
BROCCOLI AND BREAD BAKE
300g Tenderstem broccoli, trimmed, bottom ⅓ chopped into small chunks
2 tbsp butter
2 tbsp flour
400ml milk
1 tbsp Dijon mustard
60g mature cheddar, grated
2 slices of thick crusty bread toasted and torn into chunks
Parmesan or vegetarian alternative, to top
Potato cobbler topping (optional side dish for chicken stew)
2 large potatoes
250g self raising flour
100g butter
125ml milk
1 teaspoon salt
Bread
225g strong plain flour
1x 6g sachet easy blend yeast
½ tsp salt
2 tablespoons oil
150ml warm water
For bread based pizza bring toppings eg cheese tomato puree etc
Puff Pastry pie
Bring your own baking sheet if you can!
1 block puff pastry
1 egg
Choose your own pie filling! Here are some ideas……
Cheese and onion: 200g cheese, 2 onions
Ham and Vegetable: 4 slices ham, 1 onion, 100g cheese, 1 small tin sweet corn or 1 eating apple, 2 tablespoons mayonnaise
Apple: 2 cooking apples, 100g sugar, 1 teaspoon cinnamon
Minced beef and onion: 200g mince beef, 1 onion, 1 carrot, 1 beef stock cube, 1 tablespoon flour
Chicken and Broccoli: 2 chicken breasts, 1 onion, 1 head broccoli, 1 tablespoon flour, 1 chicken stock cube, ¼ pint milk or cream
mixed bean enchiladas
1 packet of wraps (Herb is you like)
2 tins of mixed beans
2 tins of tomatoes
1 clove of garlic
2 small onions or 1 large
2 peppers
Mushrooms (optional)
1 tsp Chilli powder
80g Cheese for the topping
VEGETARIAN LASAGNE
10 Lasagna sheets
1 chopped onion (1/2 large onion)
3 garlic cloves
1 bag of quorn mince or extra vegetables of your choice or tinned lentils.
2 medium courgettes
2 yellow peppers
2 tins chopped tomatoes
Generous handful fresh basil leaves, or pinch of mixed herbs.
One container part-skim ricotta cheese or cottage cheese
100g cheese for topping
GINGERBREAD BISCUITS
125g butter
100g brown sugar (or use caster sugar)
4 tbsp golden syrup
325g plain flour
1 tsp bicarbonate of soda (we can provide if necessary)
2 tsp ground ginger (we can provide if necessary)
To decorate: 5 tbsp icing sugar or chocolate to melt and some decorations/sweets if desired
MILLIONAIRE'S SHORTBREAD
225g plain flour
175g butter
75g caster sugar
Caramel
150g butter
1 tin condensed milk
100g golden syrup
200g cholocolate to melt on top
You must remember to bring an oven proof tin/baking tray
Cupcakes
Design and make your own fancy cakes!
100g margarine
100g caster sugar
100g self raising flour
2 eggs
Cupcake cases x6
Flavourings, e.g. cocoa, coffee, dried or fresh fruits, choc chips, coconut, lemon/lime etc!
Butter icing: 200g icing sugar, 75g soft margarine
You may also bring food colouring and decorations bring a tin to take them home
Choc Chip Cookies
100g soft margarine
75g sugar
175g self raising flour
100g choc chips
2 tablespoons syrup
Lasagne
You will need a large oven proof dish!
Bolognese: See recipe in year 8 section
8 Lasagne Sheets
Cheese sauce: 1 pint milk, 50g flour, 50g butter, 200g cheese
Bakewell Tarts
150g plain flour
75g hard margarine or butter
1 egg
50g caster sugar
50g self raising flour
50g soft margarine
4 tbsp jam
50g margarine
100g icing sugar and 6 glace cherries to decorate
(Optional: Flaked almonds to decorate)
Apple pies
200g plain flour
110g butter
2 baking apples
80g sugar plus extra for toppings
Optional cinnamon
Brownies
Bring your own 20cm cake tin or dish
175g cheap plain chocolate
175 butter
3 medium eggs
250g caster sugar
75g plain flour
40g cocoa powder
50g chopped walnuts optional
Naan bread
250g plain flour
2 teaspoon sugar
1/2 teaspoon salt
1/2 teaspoon baking powder
120mls milk
50mls vegetable oil
Keema
400g minced beef
1 onion
2 cloves garlic
100g frozen peas
1 tin chopped tomatoes
2 teaspoon curry powder
1 stock cube
KIDNEY BEAN CURRY
1 tbsp vegetable oil
1 onion
2 garlic cloves, finely chopped
thumb-sized piece of ginger, peeled and finely chopped
1 small pack coriander, stalks finely chopped, leaves roughly shredded
1 tsp ground cumin
1 tsp ground paprika
2 tsp garam masala
400g can chopped tomatoes
400g can kidney beans
Cooked basmati rice, to serve
Lemon meringue pie
Biscuit base
200g digestive biscuits
75g butter or margarine
Filling
50g cornflour
50g granulated sugar
2 lemons
2 egg yolks
½ pint water
Meringue
2 egg whites
50g caster sugar
Shepherds pie
350g mince beef or lamb
1 onion
2 carrots
1 beef stock cube
6 large potatoes
Milk
25g butter
1 tblsp gravy granules / Bisto
asparagus and new potato frittata
200g new potatoes
100g asparagus tips (or any vegetable you like)
1 onion, finely chopped
6 eggs, beaten
40g cheddar, grated
Flat Bread
200g plain flour
2 table spoons oil
1 teaspoon salt
Flavourings eg herbs curry powder
Toad in the Hole
You will need an oven proof dish
1 pack of sausages
1 pack of bacon (back or streaky)
380ml milk
160g plain flour
4 eggs
Mixed herbs (optional)

For the gravy
1 large onion
1 stock cube
60g plain flour to thicken
Chicken Bake
You will need an oven proof dish
3 large baking potatoes
2 cloves of garlic
50g butter
300g chicken
1 onion
100g frozen peas
1 chicken stock cube
For the Sauce
50g flour
50g butter
1 pint milk
risotto
1 onion
150g vegetables of your choice eg mushrooms, peppers, carrots
1-2 cloves of garlic
1 tblsp olive oil
250g risotto rice
1 stock cube
100-500ml water, boiling
Parmesan or cheddar cheese
Optional extras: chorizo, chicken, bacon
FOCCACIA
500g/1lb 2oz strong white bread flour (plus extra for dusting)
2 tsp salt
1 x 7g sachet fast-action dried yeast
80ml/3fl oz olive or vegetable oil (plus extra for drizzling)
150-250ml warm water
Optional toppings - choose from: rosemary, peppers, garlic, red onion,k olives, feta cheese, sea salt, sun dried tomatoes, cheddar cheese
Paul Hollywood's mince pies
1 jar mincemeat
2 tangerines
1 apple
375g plain flour
125g caster sugar
250g butter or hard margarine
1 egg
spanish chicken
300g chicken (boneless thighs or breast)
100g chorizo sausage
1 onion
1 red or yellow pepper
1 tin tomatoes
2 cloves garlic
2 tsp sweet or smoked paprika
2 tbsp. tomato puree
Plus a container and apron
Key Stage 4
Food and Cookery VCERT Level 2
This is a vocational qualification which is of the equivalent level of a GCSE, students may opt for this in Year 9 when they choose their options.
The course comprises 4 units.
Unit 1 Preparing to cook:
In this unit the students produce a portfolio of work which is assessed by the class teacher. Students study good kitchen hygiene practices, produce risk assessments and understand the purpose and stages of a recipe. There is a lot of practical cookery and students are assessed in practical lessons by their class teacher. The compulsory dishes are, winter vegetable soup, spaghetti bolognese, cauliflower cheese, apple pie, vegetable curry, fish or chicken pie. Students can select their own recipes and make suitable accompaniments to their dishes.
Unit 2 Understanding food:
In this unit students study food provenance, seasonality, factors affecting food choice and research ideas for their 6 chosen dishes which must include, pastry, rice, vegetarian, meat, fruit and pasta. Assessment is based on their portfolio of work.
Unit 3: Understanding balanced diets
This unit is assessed in an external examination and is 25% of the qualification. Students are tested on their understanding of nutrition and healthy eating.
Unit 4: Cooking dishes in response to a brief
Students are given a scenario which they must research and cook suitable dishes in response to. For example setting up a new café in the town or producing appealing school meals. They are assessed on their portfolio of work.