School Prefects
Buxton Community School appoints a team of School Prefects each year to undertake various roles and responsibilities around the school, both during the school day and at extra-curricular events. This is a perfect role for students in Year 11 who want to take on extra responsibility, extend their experience and provide themselves with opportunities which will support their applications to 6th form, college, university and to work. There is an expectation that the Prefect team are identifiable around the school by wearing a prefect badge and different coloured tie.
Our prefects are role models for other students: they set the example by being honest, approachable, and reliable. As leaders within the school, they commit to do their best for themselves and the school.
The application process requires students to complete a form explaining the personal skills and qualities they can demonstrate which would enable them to fulfil the role. Students are also asked what they would like to achieve as prefects. A team of 15 students are selected from which two Head Prefects and two Deputy Head Prefects are chosen.
our prefect team for 2021-2022:
Head Prefects
Deputy Heads
Ben Crispin
Sienna Redfern
Prefects
Esther Buston
Grace Critchlow
Emma-Jane Eltringham
Lara Mellen
Tilie McCahill
Isabella Pisano
Evan Stutz
Grace Tomlinson
Aggie Worth
Olivia Yates
Meet our head prefects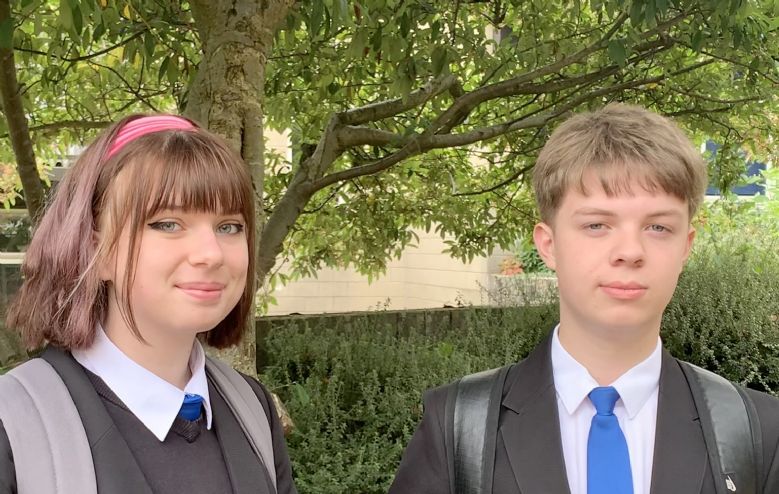 Elyse Marling
Hello, I'm Elyse and I'm one of your Head Prefects for this academic year. To be honest, it's fairly surreal to me that I was given this responsibility and I'm still not entirely convinced that this isn't all a bizarre dream! However, I'm incredibly grateful to have been given a chance to represent the school in this manner.
My idea of what school life should be like largely centres around the idea of students, both as individuals and as a collective, I really want to uplift the students here and ensure their voices are heard and am extremely grateful for any input or suggestions that any students may have. If you do want to put any ideas forward, or just want to ask questions about life at Buxton Community School, please don't hesitate to talk to me, or any other prefect for that matter- we're here to help. As an individual, I enjoy acting and musical theatre and some of the students who share my interests might know me from local youth companies and choirs- I know that I've spotted some faces in corridors that I would normally see adorned with glitter and stage make-up.
I really look forward to working with you all to make the most of our time here at BCS and ensure that our school is one to be proud of.
Jim Payton
I'm Jim Payton. I've always enjoyed positions of responsibility since early in my school life. I've been on the school council in primary school and the Key Stage 3 Ambassador team in Year 9, and am now one of the two Head Prefects.
In taking on that role, I want to help give the students as much of a voice as possible in the school. I hope to make them feel included in improving our school and community and would like all students and parents to know that I am always interested in hearing any suggestions or feedback they have. I enjoy listening to music, playing and watching football and spending time with my friends.