Y9 gardening project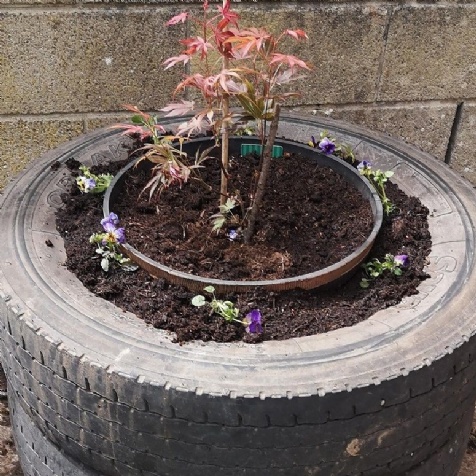 Y9 students choose to make the most of their space.
Mrs Gale, Miss Wood and Mrs Weston are supporting Y9 students who came up with the idea of utilising the space outside Mrs Gale's office as a relaxation garden. The students wrote to local firms asking for donations and this is what one of them said about the project:
Suzanna - A lot of students have become overwhelmed and anxious because of the ongoing stress of Covid, which can affect their mental health. We would like to support each other with this by creating a Timeout Garden. As we need resources for this garden, we would like to ask for donations from yourselves and other local stores. If you would like to donate items such as plants, seeds, compost, and other basic items to maintain a Garden we would really appreciate it.
The students are really enjoying not only the planting and nurturing but the refurbishing of the benches and tables.
So far we are hugely grateful to World of Power, Morrisons, Tesco and Mary-Lee Johnstone for their donations. If you would like to make a donation, please contact Mrs Gale at school.
Members of staff have also been very generous with contributions of plants, trees and plant pots (which the students are not only going to use for planting but for making flower pot people!)
Please use this link to keep up to date with the progress of the garden. We will add pictures throughout the rest of term.