Fantastic GCSE results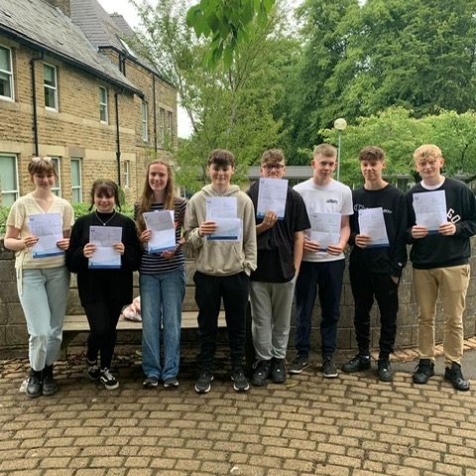 Huge congratulations to our wonderful Y11 students!
All the staff at Buxton Community School want to congratulate our Y11 students on an outstanding performance in their GCSE examinations. After a tough two years due to the Covid pandemic we are so proud of our students and the amazing GCSE results they have achieved. Despite the disruption they faced during the first year of their GCSE courses, the students impressed us with their commitment and determination to succeed. We are once again so pleased to be celebrating some outstanding exam results. So many of our students secured 5x grade 4s or above, including English and Maths which is the key measure at this point in their school career. These results are testament to the drive and determination of our fantastic students.
There were some outstanding individual performances:
Agatha Worth - 8 grade 9s, 1 grade 8 and 1 grade 7
Elyse Marling - 7 grade 9s, and 3 grade 8s
Emma-Jane Eltringham - 7 grade 9s, 2 grade 8s and a grade 7
Ester Buston - 7 grade 9s, 1 grade 8 and 2 grade 7s
Boris Holliday - 5 grade 9s, 3 grade 8s, 1 grade 7 and 1 grade 6
Lara Mellen - 1 grade 9, 1 Distinction Star, 6 grade 8s, 2 grade 7s
Olivia Yates - 3 grade 9s, 1 Distinction Star, 3 grade 8s, 1 grade 7 and 2 grade 6s
Grace Tomlinson – 6 grade 8s, 3 grade 7s and 1 grade 6.
In addition, we are also extremely proud of the achievements of Luke Guise, Bonnie Judkins, Isabella Pissano, Jim Payton and many, many others who worked tirelessly and achieved amazing results.
We are extremely excited that so many of our students are staying on with us at BCS Sixth Form and we wish all of our students the best of luck wherever it is you are going next – we are so proud of everything you have achieved at BCS!
We do still have a small number of places left for anyone who would like to join our Sixth Form, in September. We are extremely proud of our Sixth Form provision and the percentage of students securing grades AAB or better as this provides access to the most demanding universities was incredible this year. Please get in touch if you would like to be part of our amazing Sixth Form.