Y8 Students Raise Money for Blythe House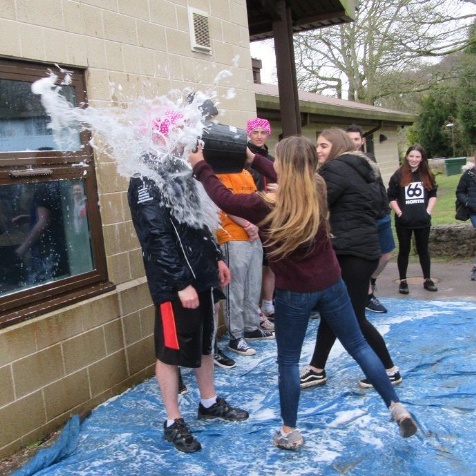 Year eight students at Buxton Community School have managed to raise a whopping £547 for local charity, Blythe House Hospice.
When the 'Easter Enterprise' challenge was extended to students by the Head of Year Eight, Mrs Lomas, as part of their inter-form challenge for the half term, they were optimistic and creative; initial ideas ranged from a student auction to 'soak a bloke'.
As part of the challenge, the students were given £10 per tutor group and told to try and generate as much profit as possible for a charity of their choice (the unanimous decision across all tutor groups was made to support Blythe House Hospice), by producing as many plausible ideas as possible and narrowing it down to one key money-making scheme. Each of the six tutor groups hatched a unique idea and presented their pitches to the students and staff of the school, through posters, active promotion and daily endorsement. The end result was two weeks of friendly competition, bake sales, raffle tickets, decapitated, then melted, chocolate bunnies and one (or two) soaked blokes.
Mrs Gelsthorpe's tutees reigned victorious with their decorated Dairy Milk chocolate house which raised an astounding £183.50 alone; Miss Copley's and Mr Bridge's tutor groups - with whole-hearted support from parents - managed to pull off two bake sales – staff and students alike were in their element! Miss Barratt's form adopted a chocolate bunny which was subsequently (and brutally!) melted by the untimely appearance of the mythical Buxton sun; Mr Lockett's form stuck solidly to the Easter theme with a game of 'Guess how many Mini Eggs are in the jar!' and the final week of term was rounded off nicely with Miss Heywood's 'soak a bloke'; which was kindly aided by a brave group of male staff.
Comments surrounding the experience ranged from, "Great turn out, great atmosphere and the kids loved it!" (Miss Heywood), "An impressive achievement, combining organisation and responsibility." (Mr Ward – Head of Business Studies), "I am incredibly proud of all of the students for their commitment and enthusiasm; a worthwhile and rewarding experience." (Miss Beesley – Year Eight Pastoral Manager) and finally, Miss Barratt's reflection on the experience: "'Overcoming problems' will be the strap line!".
Overall, a huge success for the students, great fun had by all involved and successful support of an extremely worthy cause.
Miss Abbie Copley