Whole School Production a Roaring Success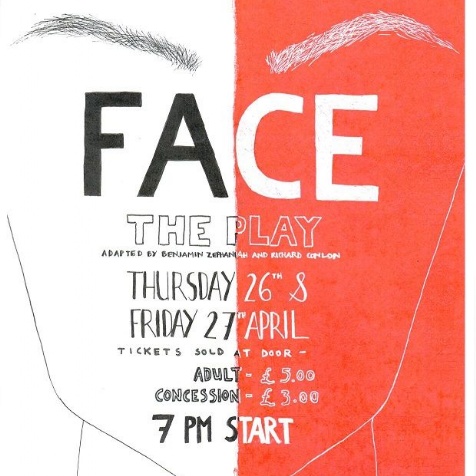 Whole school production performs to a sell-out crowd
FACE
On Thursday 26th & Friday 27th April, Buxton Community School's very own 'Spoonfed Theatre Company' performed a production of 'Face' which they had been rehearsing for 8 months. The play addressed learning to love yourself and how not to let what other people think about you impact or ruin your life.
Mini Hibbert (director) did an amazing job of getting everything ready for the performance. Martin Turner played by: Nina Jurewicz, Tyler Spencer & Matthew Bowers all did an awesome job of portraying Martin throughout his journey. Natalie, Martin's girlfriend was played by Eleanor Maddison and Martin's mum was played by Sarah Bentley. The entire cast did an extraordinary job in making the performance a show to remember!
Special thanks to Ms Rodgers for all her hard work putting the production together and to Brooke Watmough for her amazing make-up artist skills.
Both performance nights were fantastic and everyone's hard work paid off.
Write up by: Lewis Lingard Y7 student and cast member
(please download the programme below to see the full cast)
Ms Rodgers added:
We must celebrate the achievements of those students who were involved in our highly successful production of 'Face'. With some stunning performances from students in years 7 through to sixth form, and beautifully directed by Minni Hibbert. This production took over eight months of dedicated planning, rehearsals, hard work and commitment from all involved and included nearly forty of BCS's most dedicated students to take it to fruition on the 26th and 27th April with a full house on both evening performances.
A massive Well Done to all students involved!